Automatic photo upload with the mail.com mobile apps
Does your smartphone double as your camera? Nowadays most people answer that question with a "Yes!" But is it also the only place you save your photos? If your phone is lost, stolen or damaged, this could mean losing all your precious memories.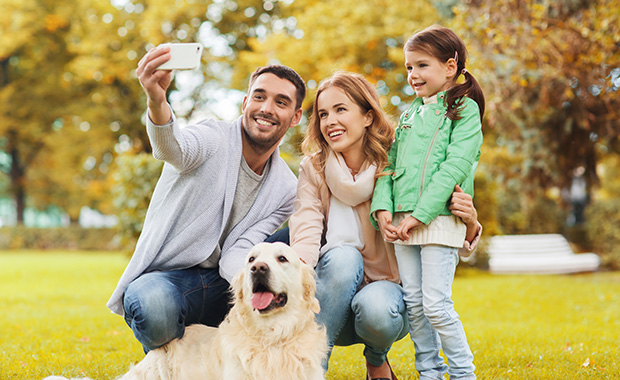 Why take that risk when you can activate automatic photo backups instead?
Automatic photo upload with the mail.com app
Did you know that with the mail.com Mail App on your phone, you can automatically upload pictures to your online storage? This means they are always protected against loss and available on any device you use to access your mail.com Cloud. If you haven't yet activated automatic photo backups, keep reading to find out how it works.
Upload images securely with our mobile apps
Once activated, the photo upload function automatically backs up new photos – and, if desired, videos – to your secure mail.com Cloud without you having to actively load pictures. By default, the photo backup only takes place when you are connected to Wi-Fi so it won't affect your mobile data volume. However, you can also change the settings so that each new photo is automatically uploaded no matter how your phone is connected to the internet. You can also retroactively backup all your old photos.
Automatically uploading your pics with our app serves as a backup – the photos also remain on your phone unless you manually delete them. This gives you the option of saving storage space on your phone.
Good to know:
Your mail.com account comes with 2 GB of free cloud storage. Because image sizes vary considerably, it is hard to define exactly how many photos this equates to – it could anywhere from around 400 to 1000 photos, with videos taking up more space. If you'd like more online storage, you might consider one of our
Cloud upgrades
.
Activating photo backup on iPhone
In the mail.com Mail App for iOS, open your Settings menu. Tap
Cloud Settings
>
Automatic backup
>
Setup automatic
backup now. Tap
Activate backup
to activate the uploading of new photos.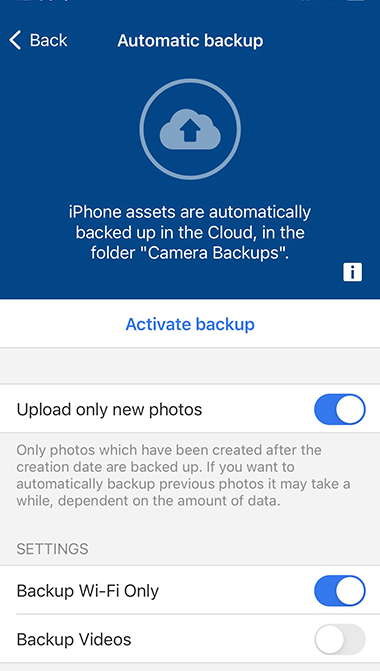 Automatic photo upload for Android
In the mail.com Mail App on your Android smartphone, tap the Cloud icon in the lower right corner. Now open the menu in the upper left corner and tap the
Settings
symbol. Tap
Camera upload
and activate the button next to
Automatic upload for photos and videos
. Now you can select your upload options.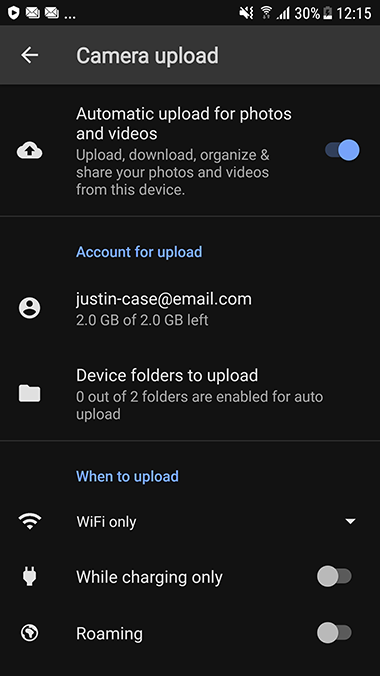 Pro tip: Photo share in your mail.com Cloud
Once you have uploaded photos to the mail.com Cloud, you can
create share links
to send by email or text to trusted recipients. So you don't have to worry about attachment size limits or third-part file-sharing services. Just go to your Cloud and tap the uploaded picture to open it. A share symbol will appear under the picture. Tap this symbol to create the link, then the copy symbol so you can copy and paste it into an email or text. Unless you change the settings, the image share will be valid for one year. For additional security, you can also add a password that will be required to open the link.
Did you find these instructions helpful? Then please leave us some feedback before you start uploading pictures!
Images: 1&1/Shutterstock
12 people found this article helpful.