Summer vacation goes digital: Travel better with the cloud
America is packing its bags: the 2023 vacation season is in full swing. Many people already make their travel plans online, but the internet can also ease many stresses for travelers once they're on the road.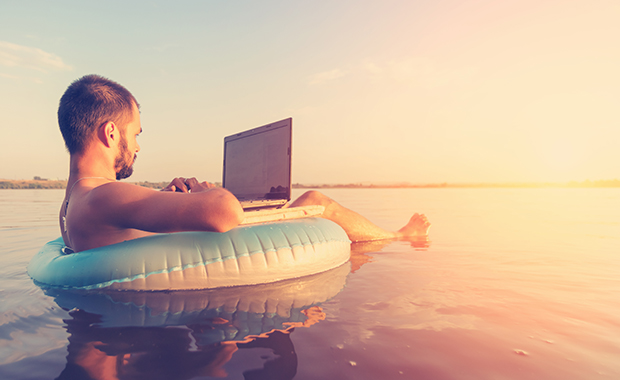 Travel documents in the cloud
Little mishaps are as much a part of vacation as sand on the beach. We can usually buy a replacement for a forgotten jacket or toothbrush without any problems. But if you leave your travel documents at home, you're more likely to have a problem. Fortunately, today we can always have important documents with us – thanks to the cloud.
When you travel, copies of your airline tickets, hotel documents and rental car reservations should be saved in the cloud. It's also smart to take photos of your IDs with your cell phone and store them online. That way, you always have a copy of your driver's license and passport on hand for emergencies. And at the airport, you don't have to search forever in your luggage; all you have to do is reach for your smartphone.
Even if you lose your luggage, you can quickly retrieve your data from the cloud from any device with internet access. Cloud services that are linked to your email service used are particularly useful: The hotel booking confirmation that arrives in your inbox can then be saved in the cloud with just a few clicks.
Vacation tip: It is practical and timesaving to create a new cloud folder for vacation documents such as hotel bookings or airline tickets before going on vacation. In the mail.com app, you can scan the desired documents directly with your smartphone camera and save them online in the mail.com Cloud.
Be on the safe side with photo backup
On vacation, we all take lots of photos with our smartphones. If the device is stolen or lost, all the pictures on it are gone. The solution is simple: automatically back up smartphone photos to the cloud. Most cloud providers have a corresponding function in an app. Once set up, all pictures taken with the smartphone are automatically uploaded to the cloud – so you always have an up-to-date backup. mail.com
offers this function
directly in the Mail app for Android and iOS.
Photo and video backup can be configured individually, for example, whether archiving should only take place when there is a Wi-Fi connection or also via mobile data networks. Especially when on vacation abroad, you should check your settings to avoid having to pay roaming fees. You can also decide whether only the newly taken pictures should be uploaded after activating the function or whether the device's entire photo library should be saved in the online storage.
Preserve photo memories in high quality
Camera technology in smartphones is getting better and more professional; however, many social networks and messaging apps send photos in reduced quality to save storage space. Those who want to share photos in high quality should use the cloud for this purpose. Using a share link sent by email or messaging app, photos from the mail.com Cloud can be easily shared with friends or family without any loss of quality.
You can find all further information about mail.com's cloud services
here
.
---
Learn more about
mail.com products and features
.
Learn more about the
United Internet Group
.
Image: 1&1/Shutterstock
11 people found this article helpful.