Protect your email app with fingerprint or facial recognition
If you use the mail.com Mail App on your iOS or Android mobile device, you may want to protect your account against unauthorized access without having to completely log in and out each time you check your email or use your cloud. So why not enable biometric authentication? It only takes a few taps!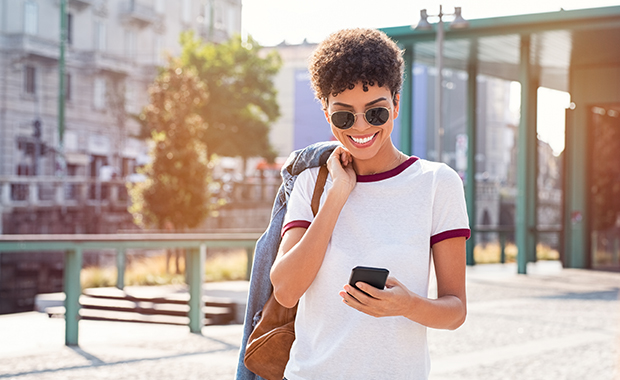 Adding an optional PIN or biometric login
The
mail.com Mail App
has always had the option of setting up a four-digit personal identification number (PIN) for extra security. But did you know that if your phone is set up to use fingerprint or facial identification, you can enable this biometric authentication for the app as well? This lets you skip the step of typing in the PIN each time, for even faster and more secure access.
What is biometric authentication?

Biometric authentication means using your unique biological features to make sure you are who you say you are. When you set up biometric authentication on your mobile device, for example, that usually means facial or fingerprint biometrics: a scan of your face or fingerprints is stored in a database and are compared with the facial features or fingerprints of the person who is trying to unlock your device. If the scan matches, access is granted. Many apps that you install on your device let you enable biometric authentication for that specific app as well. So you can add an extra layer of protection to applications where security is especially important – banking apps, payment platforms, and, of course, your email.
Log in to the mail.com Mail App for iOS with Face ID or Touch ID
Depending what Apple iPad or iPhone you use, it probably features either Face ID (facial recognition) or Touch ID (fingerprint recognition). Once you have set up Face ID or Touch ID in your device settings, you can activate it to protect your mail.com Mail App as well.
To enable biometric authentication in our iOS app:
Go to Settings, then tap Common Settings
Tap PIN protected mode
Tap Turn on PIN protection
Enter a four-digit PIN of your choice
Type your new PIN again to confirm and tap OK
Depending on if your device uses fingerprint or face recognition, you will see an option to use Touch ID or use Face ID
Toggle on Use Touch ID / Use Face ID (slider bar will now appear blue)
Your iPhone may now prompt you to allow Touch ID/Face ID for the mail.com app. If you are not automatically taken to the settings, you can go to your iPhone Settings > Face ID & Passcode > Other Apps for this final step.
That's it! Now that you have activated biometric authentication for our Mail App, you can use it to unlock your email instead of typing in the PIN. If you'd like to change the timing of authentication, go back to the
PIN protection mode
setting in your app, tap
Require PIN
, and select your preferred interval.
Activate biometric PIN in your mail.com Mail App for Android
If you have a fingerprint scan or facial recognition option on your Android smartphone, once you have set up the function on your phone you can activate it in the mail.com Mail App as well. Then you can use it to open your email app as an alternative to a PIN.
Follow these steps to enable biometric authentication in our Mail App for Android:
Open the mail.com app and tap the menu symbol in the left corner
Tap the gearwheel symbol to open your settings
Tap General settings
Under Data protection, tap PIN code required
Enter a four-digit PIN of your choice
Confirm your new PIN by typing it again
Toggle on Biometric unlocking
Is your app locking too fast or too slow for your tastes? In the PIN settings, tap
Lock app after
and choose how long you'd like the app to remain open before authentication is required again.
Good to know:
Once you have set up a PIN in our apps for iOS or Android, you can deactivate it again at any time. But you will have to enter the PIN again any time you want to change it or turn it off, so be sure to choose a number you can remember!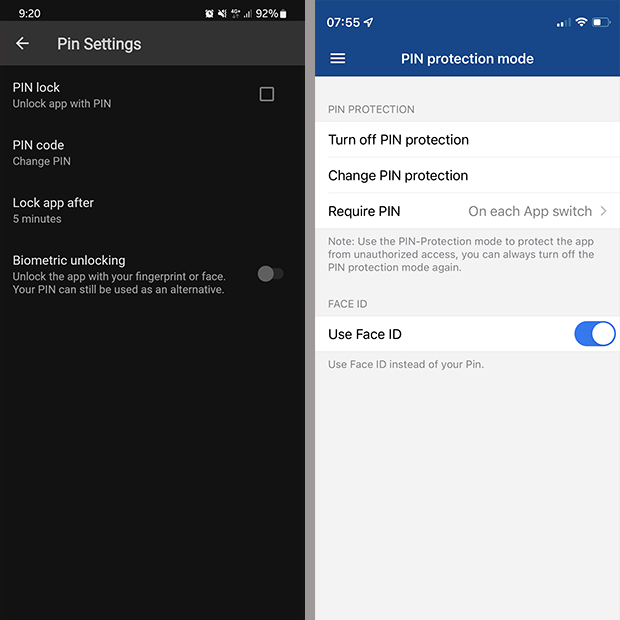 Congratulations! You can now take charge of your email security by setting up biometric authentication! Before you go to your settings, why not leave us some feedback below?
754 people found this article helpful.