How to take a screenshot on your computer
Are you having a problem with your computer and would like to take a screenshot to show tech support what's going on? Or maybe you just put together a graphic and want some input from a coworker? Most of us know how to take a screenshot on our phones, but did you know there are lots of different ways to do it on your PC or MacBook as well?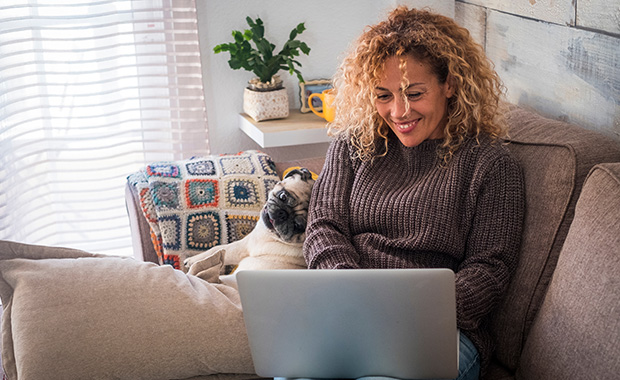 Today we show you ten easy methods.
Here are four keyboard combinations to screenshot on a Mac:
Shift + Command + 3: Press these three keys to take a screenshot of your entire screen.
Shift + Command + 4: This keyboard shortcut lets you select a portion of your screen to capture. The cursor turns into a crosshair – you hold the mouse button down and drag it to highlight the desired area, then release the mouse button to take the shot.
Shift + Command + 5: Introduced with the MacOS Mojave release, this combination opens a menu at the bottom of your screen with your screenshot options. You can take a shot of the entire screen, a specific window, or a selected area
Shift + Command + 6: On a 16-inch Macbook Pro or another model with a Touch Bar (mostly 2016 -2020 models), you can take a screenshot of what's currently showing in the Touch Bar with this shortcut.
And where is the screenshot saved on your Mac?
By default, your Mac will save it on your desktop as a .png file with a name like "Screen shot 2022-04-10 at 09.45.00 AM.png". If you would prefer to copy your screenshot to your clipboard instead of saving it as a file, hold down
Control
in addition to
Shift + Command + 3
or
4
, then press
Command + V
to paste it wherever you'd like. Or open the screenshot menu with
Shift + Command + 5
, where the
Options
button will let you choose where to save the screenshot: Desktop, Documents, Clipboard, Mail, Messages, Preview or Other Location. If you want to save your screenshot in a format besides PNG, use this screenshot menu to open the file as a Preview, then save it in a different format like JPG, TIFF or PDF.
What about screen recording on a Mac?
To record a video of what's on your screen, you'll also want to open the screenshot menu by pressing
Shift + Command + 5
. In addition to the functions listed above, there are also two screen-recording video options. Access them by clicking the video icons to the left of the
Options
menu.
There are at least five different ways to take a screenshot on a computer running Windows 10 or Windows 11:
Windows key + Shift + S: This will open the Snip & Sketch tool – your screen will turn gray and a small menu will open at the top of the screen. Here you can choose to take a shot of the entire screen, a window, or a rectangular or freeform snip.
Snipping Tool: Search for "Snipping" in the Start menu to open this app, which has different options for time delay shots and where to save your screenshot.
The PrtScn key: Depending on your keyboard, this key will be labelled "PrtScn", "Print Screen" or "Print". Press it to take a screenshot of your entire screen. There are two keyboard shortcuts you can use with this key – Windows key + PrtScn to screenshot your entire screen and automatically save the shot, and Alt + PrtScn to screenshot the active window and automatically save it to your clipboard. If you'd like, you can set the PrtScn button to open the Snip & Sketch tool for more screenshot options. Go to Settings > Ease of Access > Keyboard and toggle on the corresponding button.
Windows logo + Volume down: On a Microsoft Surface device, you can use these buttons to screenshot the entire screen, just like you take a screenshot on other phones or tablets. Simply hold down the Windows Logo button at the bottom of the screen and press the volume-down button on the side of the screen. The screen will dim briefly to show the shot has been taken.
Game Bar: In Windows 10 and 11, you can use the built-in Game Bar to record capture videos and screenshots while playing PC games. During a game you can press the Windows key + G to open the Game Bar, and click the circle icon (Record from now) to record a video clip, or click the camera icon (Take screenshot) to take a picture. If the Game Bar doesn't open when you use this key combination, you may want to check in your settings (under Xbox Game Bar) to see if it's enabled.
Where are your screenshots saved on your PC?
In Windows 10, a screenshot taken with PrtScr will be copied to your clipboard. In Windows 11, the default storage place for screenshots is in the
Pictures > Screenshots
folder – or your One Drive if you have it enabled. By default, the Snip & Sketch tool will save your screenshot to your clipboard and a notification will appear in the lower corner of your screen giving you additional options.
If you are surfing the web, most web browsers have easy options that allow you to take a screenshot of the page you are currently on. For example In Mozilla Firefox, you can simply position your mouse cursor on the page in question, right click, and select
Take screenshot
from the context menu that appears. You can then screenshot the entire page or select a snip, and then download your shot or save it to your clipboard. In Microsoft Edge, you can also right click on a page to open the context menu, then click
Web select
or
Web capture
for different screenshot options. In the Opera Browser, click the Opera icon in the corner and select Snapshot from the dropdown list.
We hope this post will help you next time you'd like to take a screenshot! We look forward to your feedback below.
Images: 1&1/Getty Images
60 people found this article helpful.