How to digitize photos: From mobile apps to scanning services
Are you thinking of digitizing old photos? Creating a digital copy of your precious memories is a great idea – it ensures you'll always have a backup if the originals should be damaged or lost. Digitized photos can also be edited; depending on your skills and software, you can enlarge, crop and correct flaws in your photos.
Plus, once your photos are digitized, you can share them in a snap with family and friends. This is especially true if you upload your digital copies to a cloud storage service, where you can access and share them from any place and any device.
Sort your photos first!
The first step for digitizing your photo albums or family photo is to decide on your strategy. After all, the digitization process is also the perfect opportunity to get organized. Keep in mind that locating a specific photo on your hard drive or in your cloud storage is not like leafing through a photo album – at worst you'll see a list of file names, at best tiny thumbnails. The date on the file will be the date you scanned the photo, not the date it was taken. With this in mind, give some thought to how you'd like to name the files and what sort of folder system you'd like to use. Would you organize them chronologically, with a folder for each year or month? Would you prefer to sort them by person or important event? Once you know how you're going to organize the digital images, sort the hard copies accordingly and scan them in batches. And speaking of sorting, be selective! Keep in mind that someone (presumably you!) is going to have to scan
each
and
every
photo you want to digitize. Make sure that each photo is worth that effort.
How to digitize your photos
Your next decision is how to go about digitizing your photos. At the heart of the matter is whether you'd rather invest time or money in this project. There are several good and reasonably priced options for scanning old photos, slides and negatives at home, but it can be highly time-consuming. However, many people enjoy the experience of sorting through and scanning their old photos, seeing it as a stroll down memory lane. Plus it can be a fun project for family or friends to do together, maybe even with a playlist of nostalgic music in the background! On the other hand, outsourcing the job to a photo scanning service means you only have to invest enough time to select, pack and deliver your photos – but this is a significantly more costly option.
The most popular ways to digitize old photos are: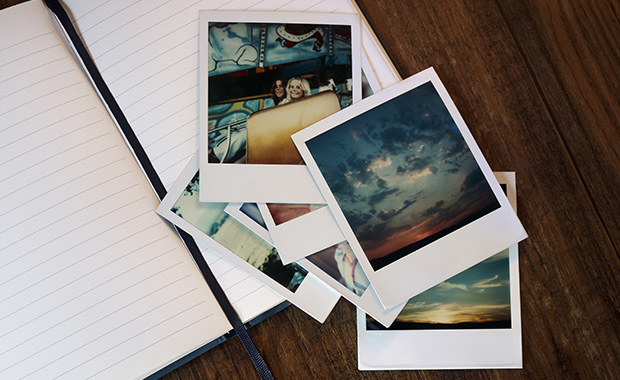 If you already own a modern all-in-one printer with a scanner function, good news! You can use it for photo digitization. The scanning process is the same as for other documents: place a photo face down on the flatbed surface, close the lid and press the "Scan" button. In addition to being easy to use, these scanners usually scan at a high enough resolution to allow reprinting, and the lid protects your scan from dust and glare.
The built-in scan and photo applications on your PC or Mac will give you the basic functionality to crop, rotate and adjust the resolution of your scanned photo. But there are lots of software options out there for users who'd like more features. If you have a lot of photos to scan, for example, one highly recommended function is the ability to scan multiple photos at once – as many as will fit on the flatbed of your scanner. You may want to check out free scanning programs like
ScanSpeeder
for Windows.
If you don't already have or want an all-in-one printer, another option is to invest in a dedicated film and photo scanner. Such scanners offer extremely good image quality and usually come with the option of scanning slides and photo negatives in addition to photo prints. In case you were wondering, experts recommend scanning photo negatives rather than prints if you have that option – the resulting image quality will be better. Good film and photo scanners are available for under $200 dollars.
At one time or another, most of us have probably used our phone to take a picture of a printed photo – like when you're visiting an Auntie and you take a snapshot of Grandma's wedding portrait. This is fine for a quick, one-time fix, but manually taking digital snapshots of old photos with your phone is not an ideal solution. You will have to snap each photo individually, making this the most time-consuming option on our list. Furthermore, it will not deliver the same quality as a photo scanner: There may be dust or glare, the angle may cause distortion, and the resolution might not be high enough to allow you to enlarge or make prints. However, if your phone is the only tool you have to work with, you can use a dedicated photo-scanning app for better results. Widely recommended free mobile scanning apps include
Photomyne
and
Google PhotoScan
, both of which are available for iOS and Android. Such apps will automatically crop and straighten images and reduce glare.
If you don't have the time, equipment, or know-how to scan images yourself, you can find plenty of companies online who will be happy to do it for you. In addition, you can explore local options – a photo shop or drugstore in your town may offer this service, saving you the trouble of packaging and mailing your photos. In addition to saving you time and effort, photo-scanning services will provide you with very high-quality scans of your photos, usually on a USB memory stick for easy transfer to your home computer. However, opting to send a lot of photos to a professional for digitization can prove very expensive – even with services that offer budget options, you would end up spending at least 20 cents per photo, and prices can be double or triple that. You should also consider that you will have to pay for shipping, not to mention trusting the postal system with your precious photos.
Good to know:
If you're wondering where to store your digitized photos, we recommend the highly secure and convenient mail.com Cloud. Need more storage space? We offer
Cloud upgrade
plans in addition to our regular
Premium membership
We hope this article helped you decide on the best way to digitize your photos! We look forward to your feedback.
Images: 1&1/Shutterstock
31 people found this article helpful.