How to find files in the Cloud – and search by photo location
There are many advantages to keeping documents and photos in your mail.com Cloud – you free up space on your device and you can access your files anywhere you have an internet connection. However, as you start to fill up your Cloud, you may not be sure how to locate items quickly, especially if you haven't set up folders.
Never fear -- the search function in your Cloud can help you find photos and other files in the blink of an eye.
How to search your cloud storage
Open your mail.com Cloud by clicking the Cloud tab in your mailbox. In the upper left corner, you'll find a search bar where you can search all files in your cloud.
Search by folder and file names
One of the easiest ways to find files in the cloud is to search for the name of the document or the file you saved it in:
Enter a folder or file name in the search field.
Press Enter.
A list of search results will appear.
Sort your search results by file type, name, date created, date modified or file size by changing the sort criteria in the drop-down menu in the upper right corner. You can also switch between a list and a thumbnail view.

Search by photo locations
By default, photos often have file names that are just a series of numbers or letters. This can make it hard to search for a specific photo. However, if you remember WHERE the photo was taken, like on your vacation in Mexico or at your grandmother's house in Boston, you can search for your images by location – provided your photos have saved geodata:
Enter a location (country, city, or street) in the search field in the upper left corner of the Cloud tab.
As you type, location suggestions based on your saved photos will appear below the search field.
Click a location from the list of suggestions.
All photos taken at the search location are shown.
In the list of results, you can use the Date (from – to), Photos and Videos filters to refine your search.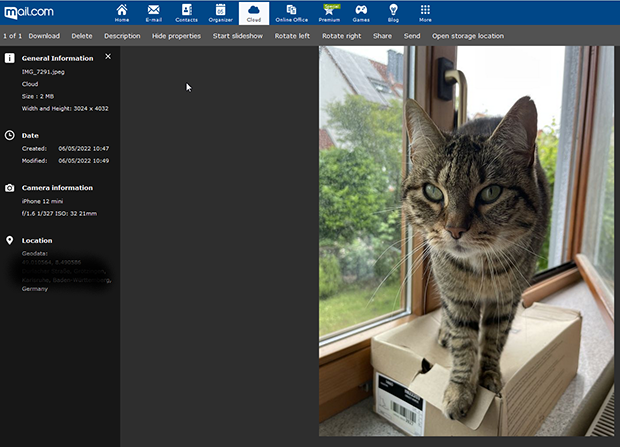 Please remember that only images that have geodata saved for in the image properties will be displayed in the search for image locations. To see whether an image in your mail.com Cloud has saved location data, click on the image and then on
Show properties
in the upper menu bar. If there is geodata saved, it will be displayed on the left of the image.
Pro tip: Activate location data on your digital camera or smartphone

Recording geodata, i.e. the location where the photo or video was taken, can make it easier to search for and sort images. Many devices we use to capture digital images let us decide whether we want to save geodata – in some cases, geodata will be saved by default, while in other cases you will have to activate it manually. Please see your device instructions or help pages if you wish to save the geodata of your digital photos and videos. In many smartphones, location data preferences can be saved in your privacy settings. For example, to save location data of photos taken on an iPhone, go to Settings > Privacy > Location Services > Camera.

Did you find this article helpful? We look forward to your feedback below!
Images: 1&1/Shutterstock
152 people found this article helpful.