Mail Collector: One inbox, multiple email accounts
Ever wondered if there is an alternative to the usual dance of switching between multiple email accounts to keep track of your correspondence? mail.com Mail Collector to the rescue!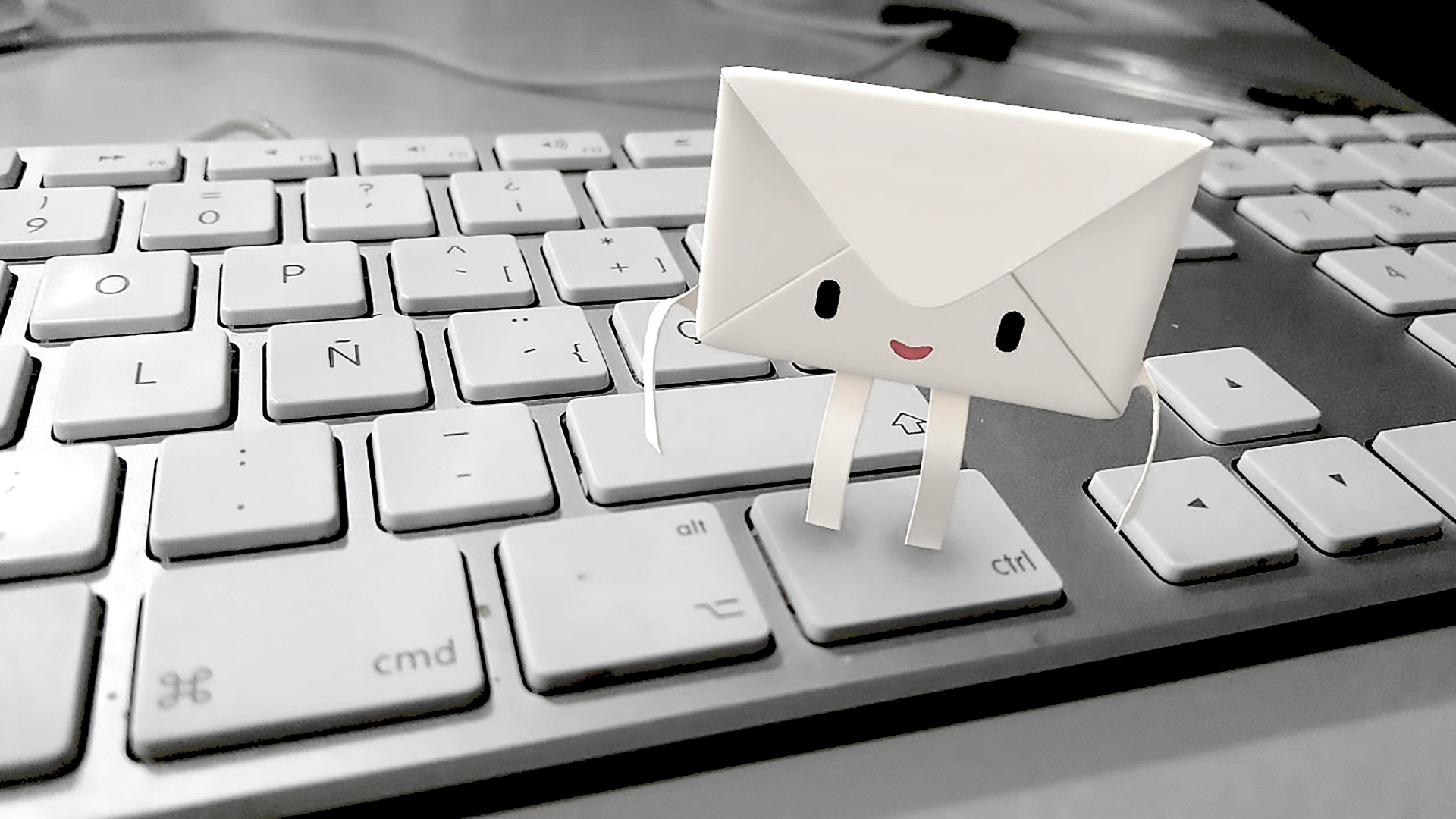 Find out how you can check all your emails in one place.
To be able to use this feature, you first must create an email account with mail.com to serve as your primary account. With Mail Collector's quick and easy setup, you'll be able to efficiently manage your email in no time! Just a simple login to your primary mail.com account will suffice for Mail Collector to automatically check emails from other accounts using the POP3 standard protocol and send them to your mail.com inbox.
How to set up and configure Mail Collector
You can set up Mail Collector to import incoming messages from the email account of your choice by following these simple four steps:
First log in to your mail.com account and access the Home page
Select Mail Collector in the left navigation menu
Enter the email and password of the email account you would like to check.
Select your preferences from the options available and save your changes.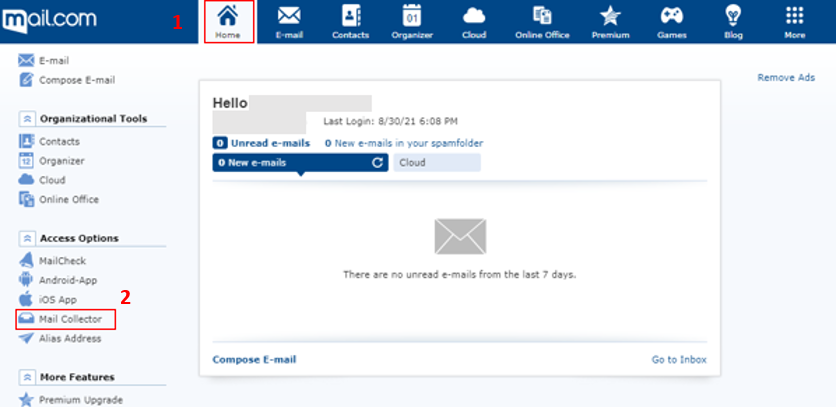 If further information is required, additional fields will appear. In this case, you will be asked to enter the server, port and username of the service requested. You can extract this information by looking at the POP Mail Server Settings of the originating email account.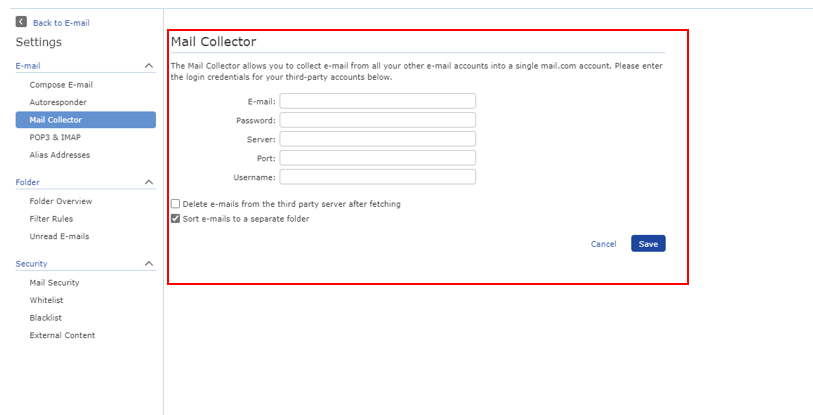 Before entering the email account credentials in Step 3, however, you must first make sure to enable the POP3/IMAP retrieval for the service you want to import the email from. To do so, simply access the security settings of the originating email account and enable them accordingly.
Setting up Mail Collector for an Outlook account
To enable the POP3/IMAP retrieval for Outlook accounts, for instance, access the account settings, select
Sync email
under
Mail
and enable devices and apps to use POP.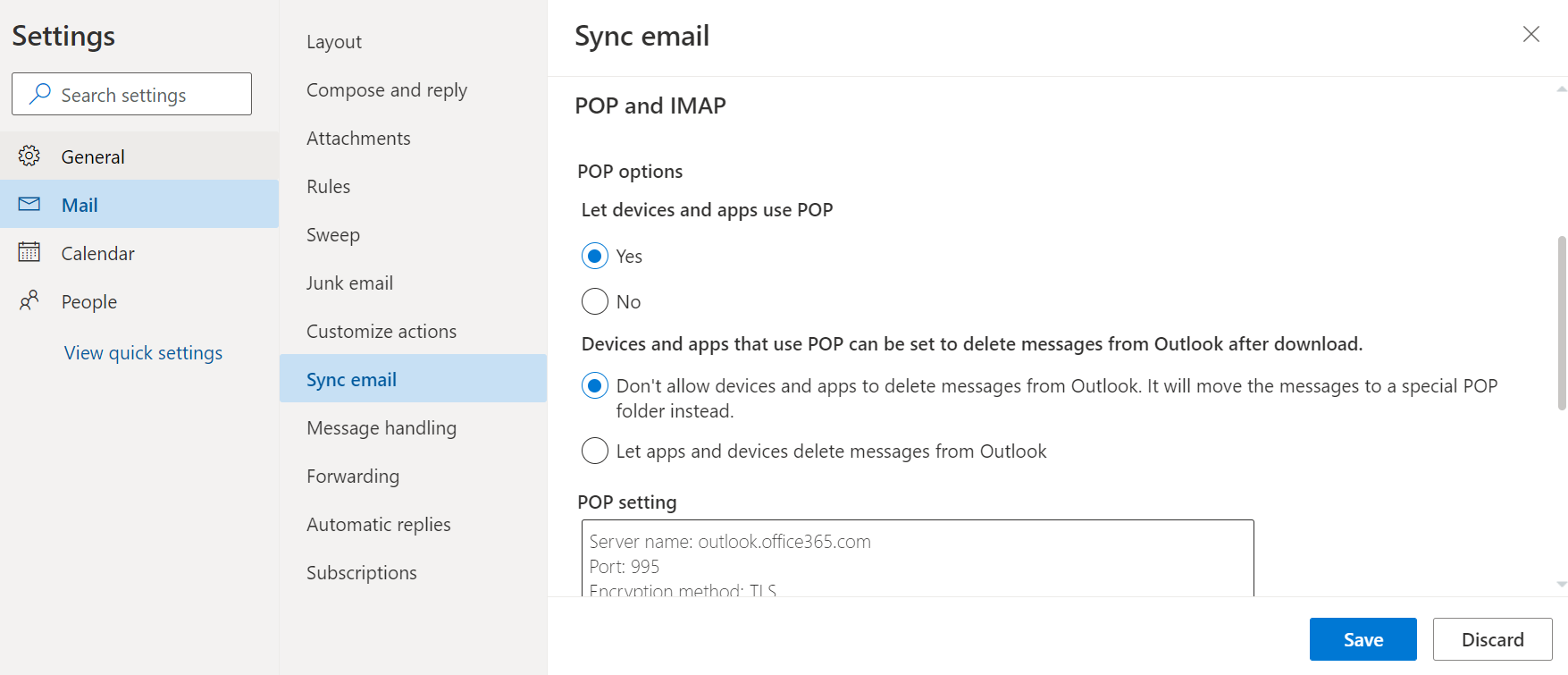 Using Mail Collector to check your Google email
To set up a Mail Collector for a Google mailbox, you must first activate
2-Step Verification
in your
Google Account
settings and set up an
App Password
for the
Mail Collector.
You will later use the generated password for your log-in credentials in Step 3 of the instructions above.
Simply access the security setting of your Google account, ensure that the 2-Step Verification is enabled and generate an app password for the Mail Collector by selecting the intended app and device from the options available.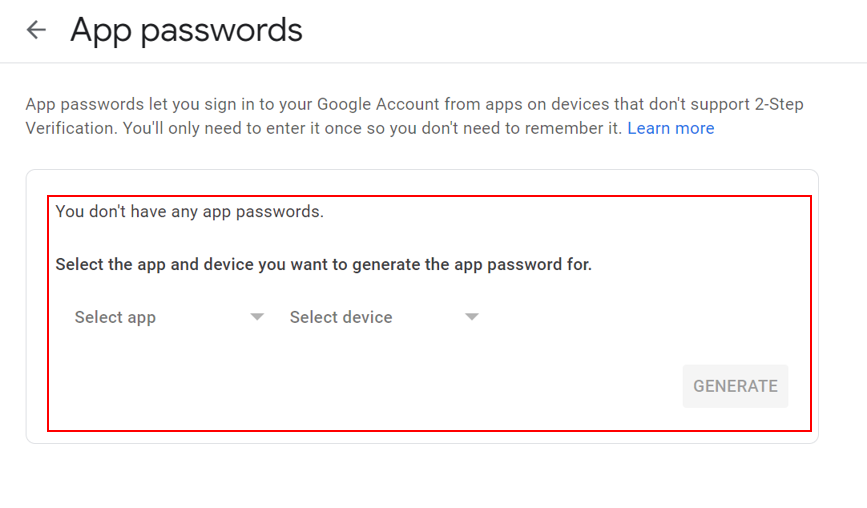 We hope you found these instructions useful in setting up your mail.com Mail Collector so you can manage multiple email accounts from one place. We would love to hear your feedback below!
Images: 1&1/Pexels
9 people found this article helpful.