What is IMAP? What is POP3? Do I need to use them?
If you have ever set up an email account in an email program or app, you may have come across the acronyms "IMAP," "POP" or sometimes "POP3." Did you wonder which one to choose, or why you even needed them?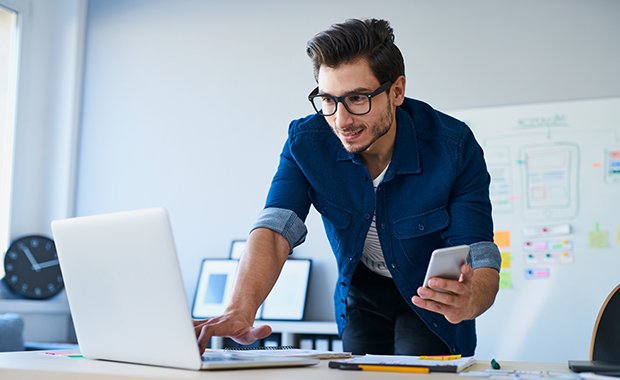 We explain POP3 vs IMAP, what these terms stand for, and how using each one affects your email account.
IMAP and POP email
POP and IMAP are protocols for retrieving mails from an email server to a device (i.e. your laptop, tablet or smartphone). POP stands for Post Office Protocol, and because the third version is currently in use, you will often see it referred to as POP3. IMAP stands for Internet Message Access Protocol, and although we are now on version 4, the term IMAP4 is rarely used.
If you only use webmail to check your emails – that is, you check your email exclusively in your web browser, for example by logging in on the mail.com website – you don't have to worry about IMAP and POP3. The email service provider handles everything. Some email apps like the mail.com
Mail App
(see below) also work automatically so you don't have to think about IMAP or POP3 settings. However, if you connect to your email account using a third party email program, for example Thunderbird or Outlook on your laptop or the Apple Mail app on your iPhone, you may have to manually get your email accounts set up with IMAP or POP3. You should also note that IMAP and POP3 are not offered by all email service providers – and at mail.com they are
Premium
features.
IMAP vs. POP3 – are they different?
For users, the most important difference is that IMAP allows remote access to emails stored on a mail server while POP3 downloads them to a device. So if you check your email on your laptop, for example, IMAP will fetch the content and temporarily store it on the device. When you do things like answer or delete messages, these actions are processed on the server. In other words, with IMAP you use your email program to manage email that is still stored on the server. POP3, on the other hand, connects to the email server, fetches the messages from the server and saves them on your device. It then deletes the emails in question from the server before disconnecting. This means the emails now only exist on the device you downloaded them to – if you check your email again later using your phone instead of your laptop, those messages will not appear on your phone. This can sometimes be confusing or inconvenient, because depending on your settings, it can
seem like an email has "disappeared"
.
Pros and cons of IMAP and POP3
The original POP protocol dates back to 1984, and POP3 still seems to embrace the old-fashioned idea that you only check your email from a single device. However, it is often possible to activate an option to leave a copy of your messages on the server so they can be retrieved on multiple devices – you just have to remember to set things up to reflect your preferences. And while the POP3 default of storing your email on your device does have the advantage of making it accessible even if you are not connected to the internet, the downloaded emails can use up a lot of storage space. POP3 also does not sync between devices, so if you have set up the option of leaving a copy of a message on the server, when you delete it on your smartphone it will still appear on your laptop.
IMAP is more in line with how we use email today, using multiple devices to access the same inbox. Any actions you take in your email account are automatically synced on the server and you always see the same messages and folders no matter where you log in. The main disadvantage of IMAP is that an internet connection is always needed to access your emails.
As mentioned above, IMAP or POP3 are necessary to connect your email accounts to a third-party email application like Outlook, Thunderbird, Apple Mail, etc. So if you want to use one of these email programs to read and send mail from your mail.com, Gmail, Yahoo or other accounts, you will have to manually add your email accounts in the application settings. This is generally not a difficult process, but you will have to collect all the necessary mail server information and adjust the settings to reflect your preferences.
Good to know: The mail.com mobile apps
In the case of mail.com, if you access your email account through your web browser or our free apps for
Android
and
iOS
devices, you do not need to manage any IMAP or POP3 settings yourself. This is one reason that our Mail App is so popular among our customers who prefer to use mail.com email on a mobile device. You can enjoy the primary advantage of IMAP listed above – an inbox that is perfectly synced between devices – on any smartphone or tablet. Our email app can be used to manage multiple email accounts, including accounts with other email providers, and you can make it your
default email app
. Using the mail.com Mail App means that in addition to your emails and folders being automatically synced, you can always access your email contacts and calendar. Plus the
Cloud tab in the app
gives you mobile access to all the photos and documents stored in your free mail.com
Cloud
. The mail.com mobile apps are highly secure, including optional PIN protection, and all data is stored on our state-of-the-art servers.
We hope you found this article interesting! We look forward to your feedback below.
Images: 1&1/Getty Images
58 people found this article helpful.