What is an email alias?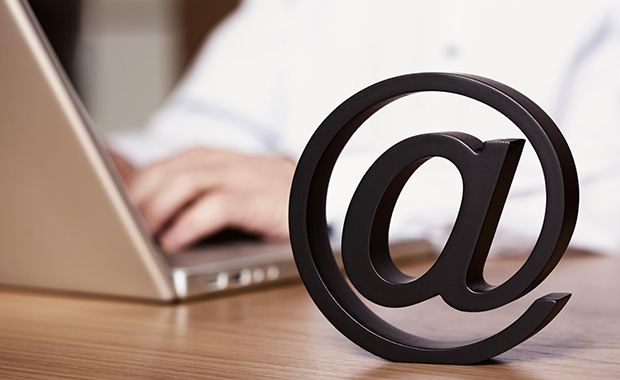 When you send, reply to, or forward an email, sometimes you don't want the recipient to see your primary email address. An email account with alias addresses allows you to create multiple email addresses and customize the sender address of your messages. This means you have complete control over what the recipients of your emails can see – and can quickly and easily send personal and business emails from the same mailbox. You don't have to switch between accounts (and memorize or save multiple passwords), and you can set the sender address that you use most often as your default address. mail.com lets you have up to 10 email addresses in a single account, and our extensive list of over 200 domains means that you can customize your alias addresses according to your personal and professional needs.
Why are alias email addresses useful?
Alias email addresses let you switch between up to 10 sender addresses in a single mail.com account. This means you don't need to register for a new email account if you want to send and receive email with a different email address. Instead, you can either use the address that you have chosen as your default or choose another sender address any time you send an email – so you can customize your emails for different areas of your life, professional and personal. Or if you get married and change your name, for example, you can create a new mail.com email address with your new name and set it as your default address in your existing account, but you don't lose access to your stored emails and still receive emails sent to your old name. Some of our customers even use a common misspelling of their name as an alias addresses to ensure that they never miss out on an email!
How do I create an alias email address?
To create an alias address, follow these simple steps:
On your computer, sign in to your mail.com account.
Go to Settings > Alias Addresses.
Enter your desired username, choose one of over 200 possible domains and click Create alias address.
If you want to use this alias address as your default address, hover your cursor over the desired address under Created e-mail addresses and click on the wrench icon.
Set your alias address as default and click OK.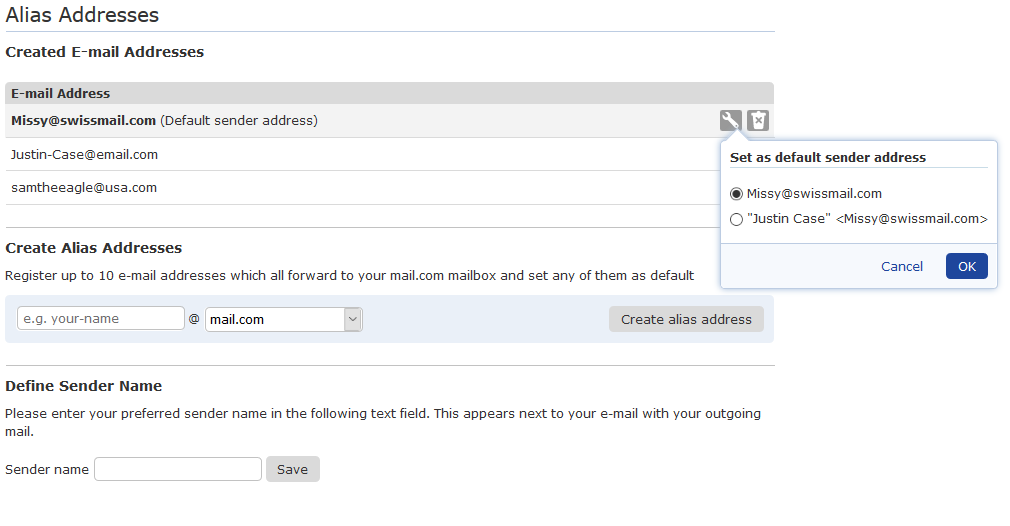 How does an alias address work?
You can log into your mail.com account using the email address you registered with or any of your alias addresses. All of the addresses you create for that account will share a single password; if you want to have separate passwords, you will have to create separate accounts.
All incoming messages to any of your aliases will appear in your main inbox. If you would like them to be automatically separated, you can set up a filter rule that sends messages arriving to a certain address directly to its own folder under
E-Mail Settings > Filter Rules > Create Personal Filter Rules
: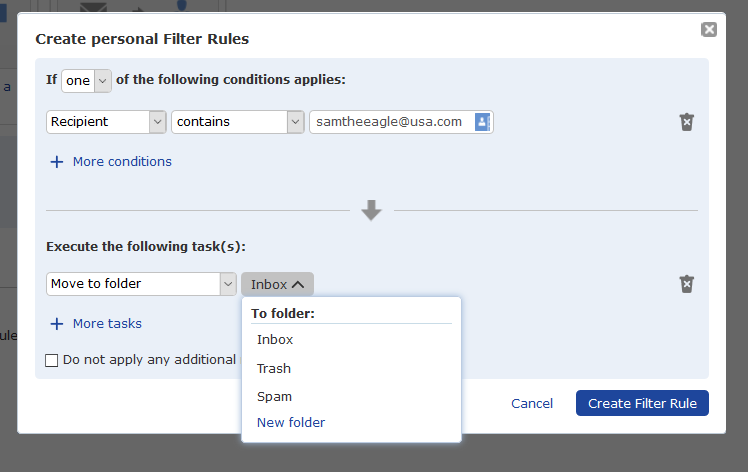 And sending an email from an alias address couldn't be easier. When you are composing an email, your default sender address automatically appears in the "From" field. Simply click the dropdown menu to the right of the address to select a different sender for that message.
We hope you found this information helpful! Before you get started creating alias addresses, please give us some feedback below!
Photo: Shutterstock
7 people found this article helpful.
Automatically sort your emails with filter rules
Why waste time sorting your emails into folders when there is a function that will do it automatically? It's easy to set up filters that will send incoming messages directly to the folder you choose, whether it's your Spam or Trash folder or a custom folder for family or work messages. Just follow the easy steps below and you'll be well on your way to having an organized inbox where you can always find the emails you want – and don't have to see the ones you don't!
more
5

people found this article helpful.
It is super-frustrating to forget a password. Especially to your email account: Suddenly you are cut off from all your important emails, and often your contacts, calendar and online storage as well. Today we'll share everything you need to know about the password recovery process so you can get back into your mailbox as quickly as possible.
more
3

people found this article helpful.
How to use mail.com's free Cloud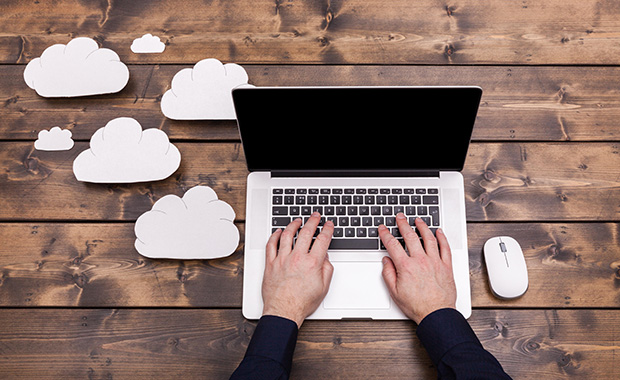 A lot of people have heard of "the cloud" but are not quite sure how it works, if it's really a secure option, or which cloud storage is best. With a mail.com email account, accessing cloud services couldn't be easier. That's because when you sign up with mail.com, you automatically get 2 GB of free cloud file storage in addition to your email storage. It's not just useful for secure file backup, but a convenient way to share files and photos with your friends and family.
more
6

people found this article helpful.
Cc and bcc can both be used to send copies of an email to additional recipients. But have you sometimes wondered what the letters stand for? Or have you steered clear of both because you aren't quite sure about the difference between cc and bcc? In this post, we'll explain when to use cc vs bcc, how it works in your mail.com account – and what this all has to do with typewriters.
more
57

people found this article helpful.
How to send a large file by email
Are you looking to transfer a large file by email but not sure of the best way to go about it? We get it – there can be a lot of confusion about attachment size limits and free file-sharing services. So mail.com makes it easy for you, with generous attachment sizes and a file-sharing function integrated into our Cloud. Here we explain the three best options for sharing large files.
more
9

people found this article helpful.