Email folders: how to create and use them
Sometimes it can be hard to stay on top of all the messages in your inbox. mail.com helps you get organized with email folders: You can create multple folders and subfolders as well as customize the settings for maximum efficiency. And you can let our automatic email filters do the filing for you.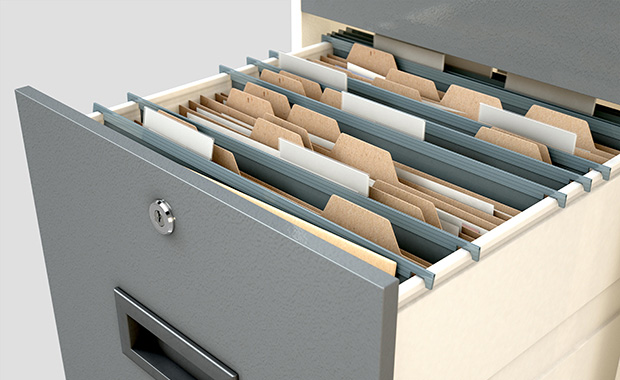 Today, everything you ever wanted to know about email folders:
We all want to get more organized especially with the influx of emails we receive every day. Whether you're running a small business, large business, or trying to optimize your personal organization; having effective email folders can really come in handy. Here are ten email folder ideas to inspire you:
Today: This folder can be used for tasks that need to be completed today or emails in which you wish to respond to today. This category is for the more urgent email.
This Week: You can put all the emails and tasks in this folder that you would like to complete this week. These are not urgent, but you want them on your to-do list for the week.
This Month: All emails are not created equal, meaning some of them do not require immediate action or response. So, you might want to put it on your list for things to do this month instead of immediately this week or today.
This Quarter: This folder is good for businesses because you can put all the necessary to-dos and emails for this quarter for better organization. You can create a folder for the year 2023 for example and each quarter that finished you can add this folder as a subfolder for the 2023 folder.
Follow Up: Keeping the emails you must check on or follow-up within a folder can help you make sure nothing is forgotten.
Reference: This folder can also be used as an FYI or for your information. The reference folder does not have specific tasks, urgency, or to-dos; however, it is a good place to store information that you can refer to later if you need it.
To-Do: Task based folder of things that you need to do.
Doing: Task based folder of things you are currently working on. This allows you to pick up where you left off from anywhere.
Done: Keeps track of the tasks you have completed in case you need to refer to them in the future or simply if you need the motivation to look at all your hard work and say, "I did that!".
You can also create folders by occasion. For example, if you're planning a family reunion that happens every four years instead of trying to sift through old emails and find the family tree, everyone's email and address, etc. You can already add this information to a Family Reunion folder then when the occasion is near you will have everything you need to plan smoothly.
Now that you have some ideas of the types of folders you can have to better organize your email account, let's get into creating, modifying, and viewing your folders.
Your mail.com email account comes with several system folders, such as Trash and Spam, which you can't delete – but you can configure the folders using the instructions below. You can also set up and customize folders and subfolders in accordance with your needs.
Create a new folder in your mail.com email account
Log in to your mail.com account
Select the "E-mail" tab
Click "+ New Folder"
Enter the name for your new folder
Click the "+" symbol next to the name field and … Voila!
Good to know: On the left navigation bar, you can see a list all your folders. This folder list can also be hidden by selecting the arrow next to "Display additional folders"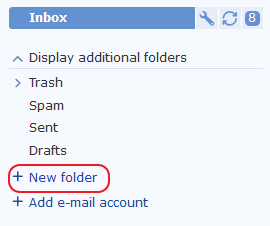 To move emails to a folder, all you have to do is select the email with your mouse, then hold the mouse button down, drag your email to the desired folder, and release the mouse button to drop the email into the folder.
It is also possible to set up what are known as "rules" or "filters" so that incoming emails are delivered directly to a defined folder instead of to your inbox. If this sounds appealing and you'd like some help setting up filters, check out our explainer: Automatic filter rules: Let mail.com sort your emails
Now that you've created a folder, there are several things you can do to customize it. Perhaps most importantly, you can change the length of time emails are stored in that folder before they are automatically sent to your email Trash folder. You can also change the name of your folder, move it into another folder as a subfolder, or change the way the emails in it are displayed.
Change folder settings
Log in to your mail.com account
Select the "E-mail" tab
Mouse over the name of the folder you want to change
Click the wrench symbol on the right end of the folder name
Adjust the settings as desired (name, storage length, location)
Click "OK" to save your changes
Delete/Empty a folder
Log in to your mail.com account
Select the "E-mail" tab
Mouse over the name of the folder you want to change
Click the wrench symbol on the right end of the folder name
Select "Delete folder" for deleting the entire folder or Select "Empty folder" to clear it out
Click "OK" to save your changes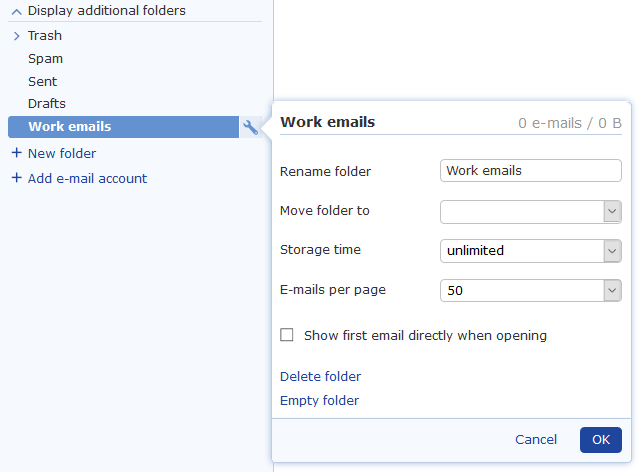 Good to know: Your mail.comTrash and Spam folders have a default storage time of 30 days, whereas for other folders the default setting is "unlimited."
Once you have added multiple folders, you may find it easier to manage them in your
Folder Overview
. Here you will find a list of your folders, the number of emails they contain, and the storage time you have assigned them. If you want to know how much email storage space you have used or how many emails are in your inbox, this is the place to go. You can also change folder settings or create new folders here.
Access folder overview
Log in to your mail.com account
Select the "E-mail" tab
Click the "Settings" located at the bottom of the navigation bar
Under "Folder" select "Folder Overview"
Any changes you make here can also be saved by clicking "OK" once you're done.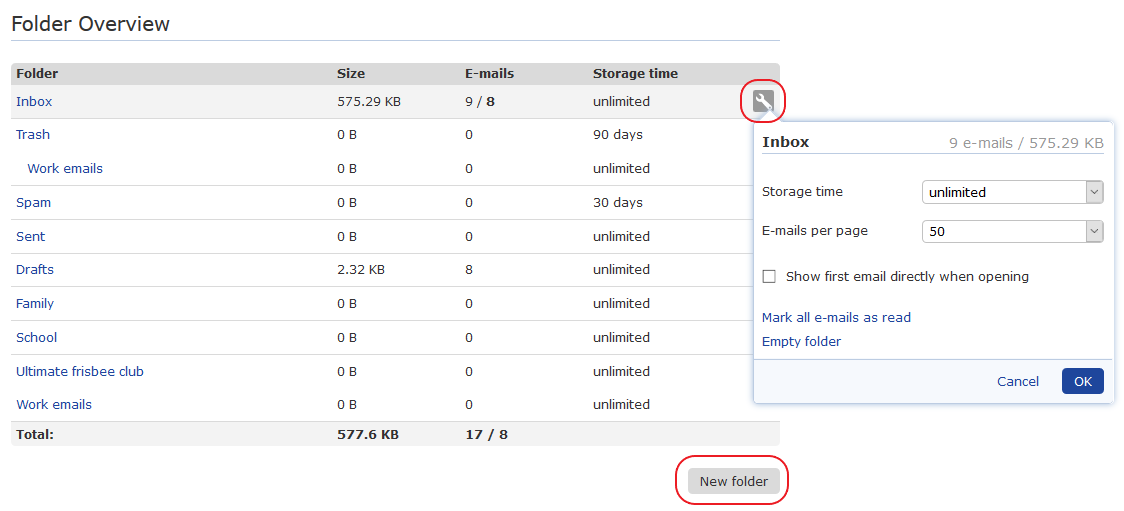 We hope you found this information useful! Before you start creating folders, please give us your feedback below!
Images: 1&1
23 people found this article helpful.