Automatically sort your emails with filter rules
Why waste time sorting your emails into folders when there is a function that will do it automatically? It's easy to set up filters that will send incoming messages directly to the folder you choose, whether it's your Spam or Trash folder or a custom folder for family or work messages. Just follow the easy steps below and you'll be well on your way to having an organized inbox where you can always find the emails you want – and don't have to see the ones you don't!
What are email filter rules?
Email filters sort emails from a specific contact or containing a specific subject directly to a defined folder in your inbox. For example, you can set up a filter rule that immediately sorts all incoming emails from a specific business contact into a "Work" folder, and messages from your child's teacher into a "School" folder. You can also create filter rules to make sure that certain messages go to your Spam folder – or even straight to the Trash.
An email filter rule consists of two parts: conditions and tasks. An example of a condition is a sender address or a subject line, and you define this condition to trigger a particular action. This task, e.g. move to folder, mark as read, etc., is performed automatically whenever the condition is met. It's possible to combine multiple conditions and tasks in a single rule. For example, you could select a specific email address and priority level as the conditions, and moving to a specific folder and sending a notification as the tasks.
How to set up filter rules in your mail.com inbox
mail.com makes it easy to automatically sort your emails. Not only can you create your own customized rules, but we have predefined several frequently used email filters that you can activate at the click of a mouse.
To set up the conditions and tasks of your email filter rules, log in to your mail.com account and go to >
E-mail
>
Settings
>
Filter Rules
. To set a quick filter, choose an option from
Frequently used Filter Rules
and define your desired rule using the selections available.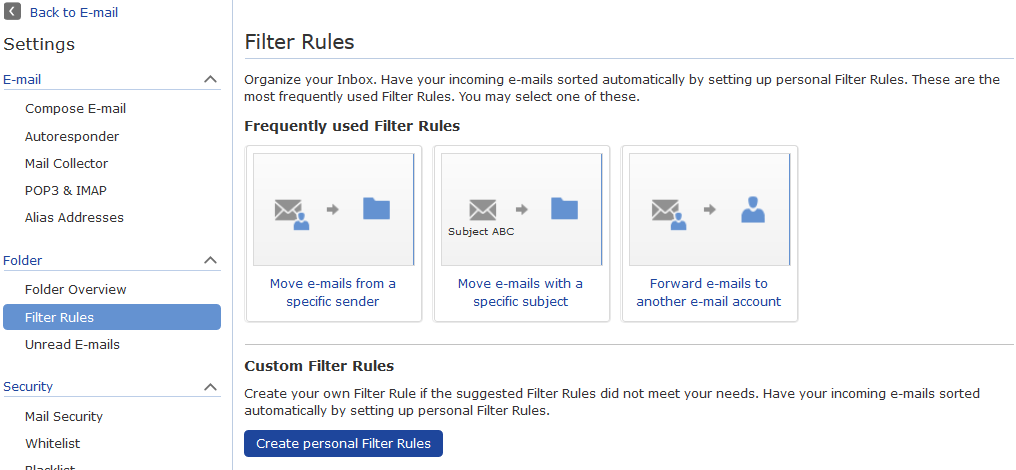 To set up a
Custom Filter Rule
, click
Create personal Filter Rules
and add or subtract conditions using the dropdown menus. To combine multiple conditions and/or tasks, simply click
+ More conditions
and/or
+ More tasks
until you have created your desired rule. Then click
Create Filter Rule
to activate your choices.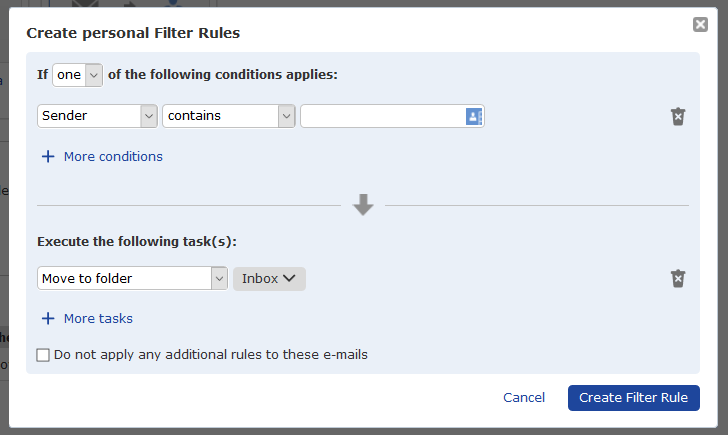 If you change your mind or the circumstances change, it's also easy to edit, deactivate, or delete a filter rule. Simply go back to
Filter Rules
under your
E-mail Settings
to see a list of your current rules. Mouse over the
wrench symbol
on the right and a list of actions will appear. Now you just have to click your desired option.

Need more help with this? You'll find additional details, such as exact definitions of the condition and task options, in our
Help Center
.
We hope you found this article helpful! We look forward to your feedback!
24 people found this article helpful.
Where did my emails go!? mail.com helps you find them
You're sure you had an email about last week's project in a folder, but now it's nowhere to be found. Or even worse, you know you saw a new email from your grandma, but when you go to your mail.com inbox to look at it, it's gone!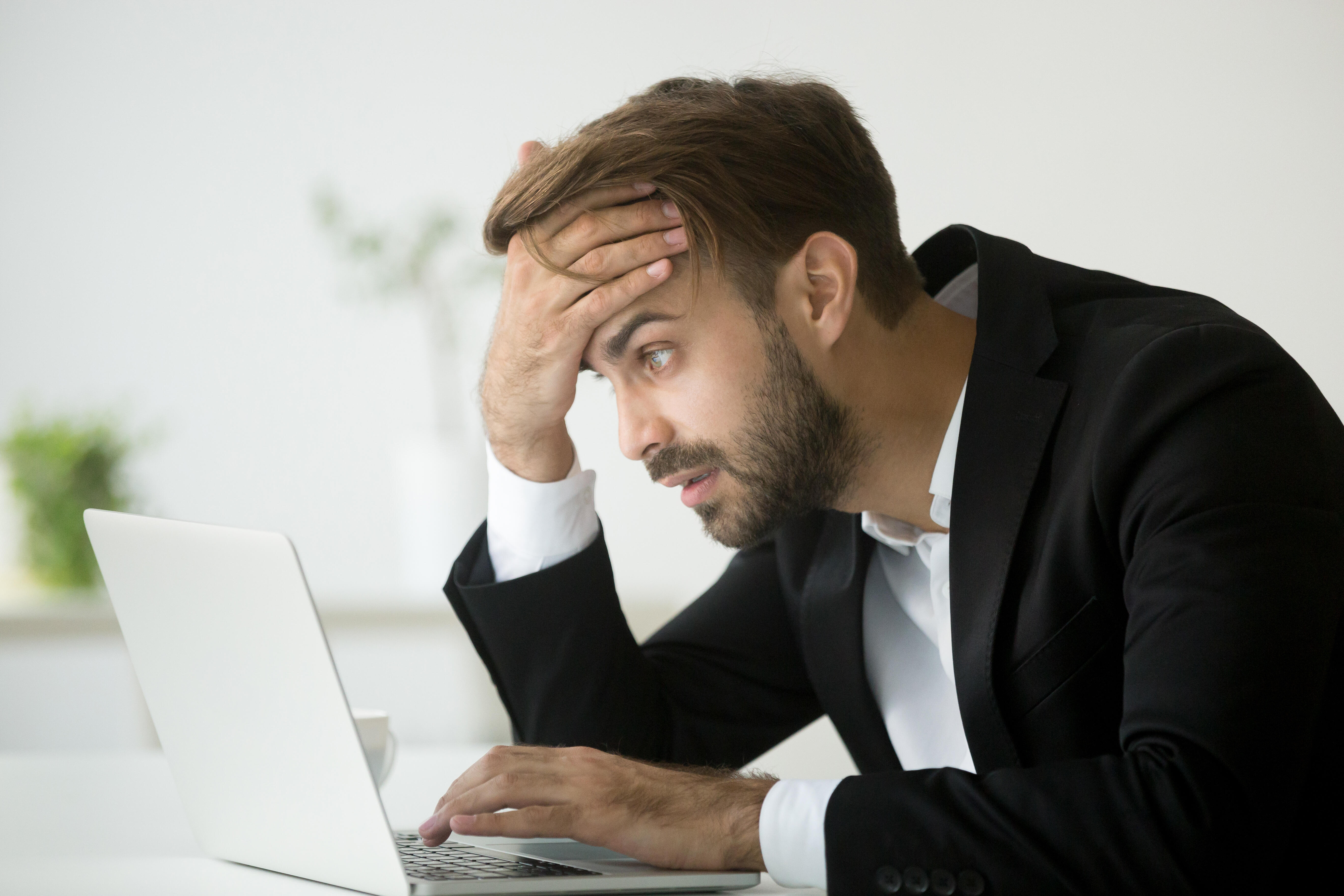 Keep calm and read this blog post – mail.com will show you where to look.
more
6

people found this article helpful.
Configure your email folders for an organized inbox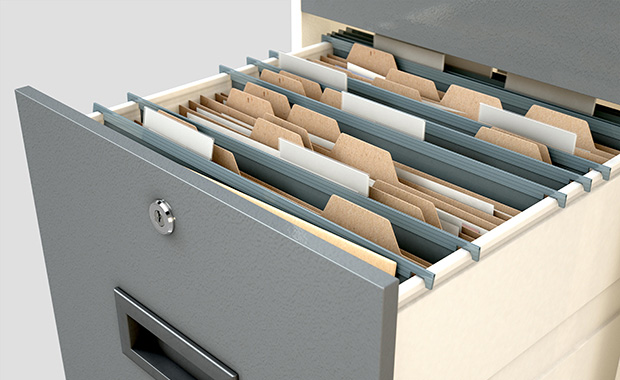 Sometimes it can be hard to stay on top of all the messages in your inbox. mail.com helps you get organized with email folders: You can create more than 200 folders and subfolders, as well as customize the settings for maximum efficiency. And you can let our automatic email filters do the filing for you.
more
13

people found this article helpful.
Tired of junk mail? Find out how to blacklist email addresses or domains
When it comes to annoying emails, most of us can identify some repeat offenders in our lives. Maybe it's junk mail from a store that never seems to get around to taking you off their mailing list, or forwarded jokes from an uncle with way too much time on his hands. But you don't have to put up with this any longer!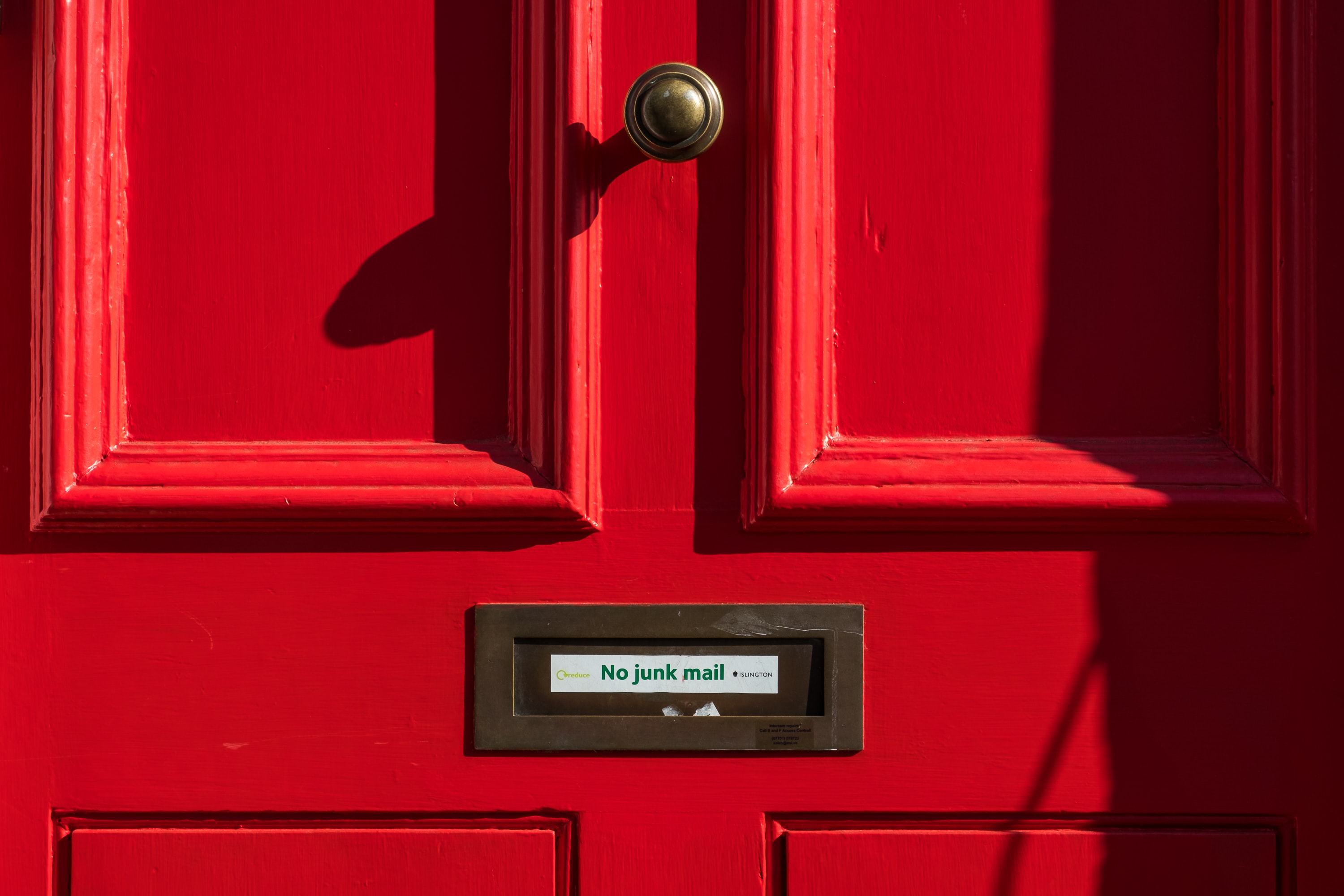 Use the "blacklist" function to send unwanted messaged straight to your Spam folder.
more
6

people found this article helpful.
Your Compose E-mail window: Spellcheck, attachments and more!
You're writing an email in your mail.com account and would like to change the font – is that possible? Where do you click to add a recipient from your address book? And is there even a spellcheck? Today we'll take you on a tour of the
Compose E-mail
window in your inbox.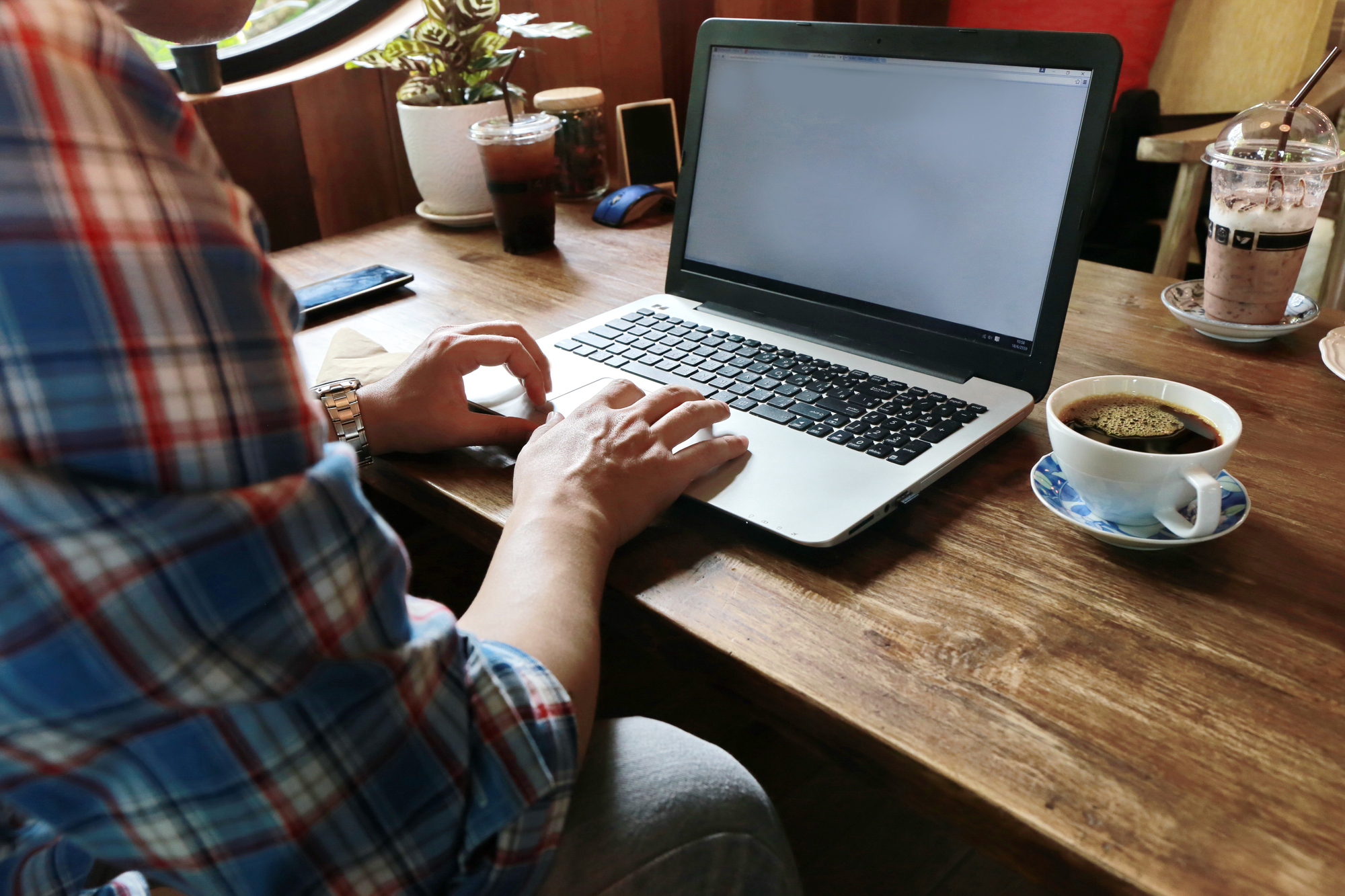 Join us in exploring its many functions!
more
14

people found this article helpful.
Whether you are looking for a way to highlight your professional credentials when contacting others by email or would simply like to let your personality shine through, an email signature is the perfect solution.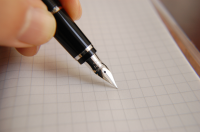 Discover how to set up an automatic email signature today.
more
15

people found this article helpful.

Keeping track of all your contacts can sometimes seem like a daunting task – checking through your multiple accounts and sources to find that email address that you absolutely need. The experience, however, can be made effortless by importing your email contacts to your online mail.com address book!
more
10

people found this article helpful.
Out-of-office messages for your vacation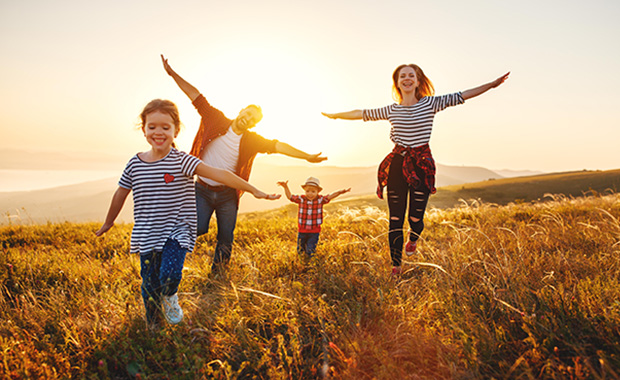 It's time for some hard-earned time off! Whether you're headed for the beach or visiting family you haven't seen for a while, wouldn't it be nice to disconnect from the digital world for a while? But before you disappear, you can set up automatic replies for your emails so the senders know when they can expect a reply. We'll show you how it works in your mail.com account – and share some examples of effective – and funny – out-of-office messages.
more
11

people found this article helpful.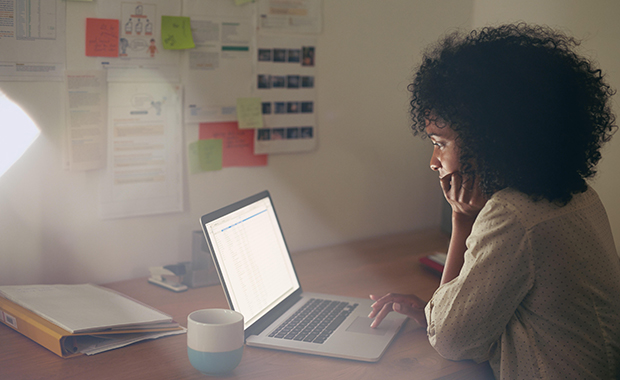 Looking for a free office suite that lets you access your files without needing to download or store them locally? mail.com has an online document editor that's perfect for all your needs: Online Office.
more
6

people found this article helpful.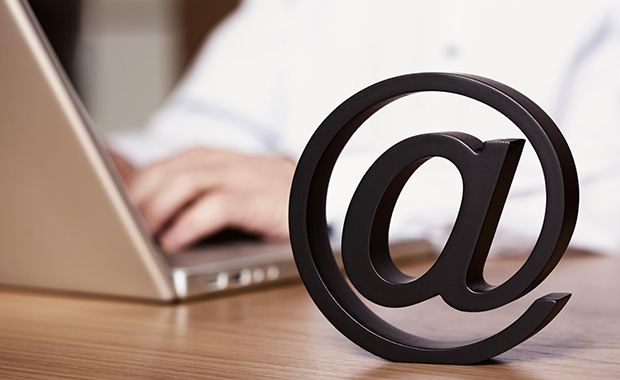 When you send, reply to, or forward an email, sometimes you don't want the recipient to see your primary email address. An email account with alias addresses allows you to create multiple email addresses and customize the sender address of your messages. This means you have complete control over what the recipients of your emails can see – and can quickly and easily send personal and business emails from the same mailbox. You don't have to switch between accounts (and memorize or save multiple passwords), and you can set the sender address that you use most often as your default address. mail.com lets you have up to 10 email addresses in a single account, and our extensive list of over 200 domains means that you can customize your alias addresses according to your personal and professional needs.
more
47

people found this article helpful.
Cc and bcc can both be used to send copies of an email to additional recipients. But have you sometimes wondered what the letters stand for? Or have you steered clear of both because you aren't quite sure about the difference between cc and bcc? In this post, we'll explain when to use cc vs bcc, how it works in your mail.com account – and what this all has to do with typewriters.
more
88

people found this article helpful.