Automatic filter rules: Let mail.com sort your emails
Why waste time sorting your emails into folders when there is a function that will do it automatically? It's easy to set up filters that will send incoming messages directly to the folder you choose, whether it's your Spam or Trash folder or a custom folder for messages from important clients or family members.
Follow the easy steps below and you'll be well on your way to having an organized inbox where you can always find the emails you want – and don't have to see the ones you don't!
What are email filter rules?
Email filters sort emails from a specific contact or containing a specific subject directly to a defined folder in your inbox. For example, you can set up a filter rule that immediately sorts all incoming emails from a specific business contact into a "Work" folder, and messages from your child's teacher into a "School" folder. You can also create filter rules to make sure that certain messages go to your Spam folder – or even straight to the Trash.
An email filter rule consists of two parts: conditions and tasks. An example of a condition is a sender address or a subject line, and you define this condition to trigger a particular action. This task, e.g. move to folder, mark as read, etc., is performed automatically whenever the condition is met. It's possible to combine multiple conditions and tasks in a single rule. For example, you could select a specific email address and priority level as the conditions, and moving to a specific folder and sending a notification as the tasks.
How to set up filter rules in your mail.com inbox
mail.com makes it easy to automatically sort your emails. Not only can you create your own customized rules, but we have predefined several frequently used email filters that you can activate at the click of a mouse.
To set up the conditions and tasks of your email filter rules, log in to your mail.com account and go to >
E-mail
>
Settings
>
Filter Rules
. To set a quick filter, choose an option from
Frequently used Filter Rules
and define your desired rule using the selections available.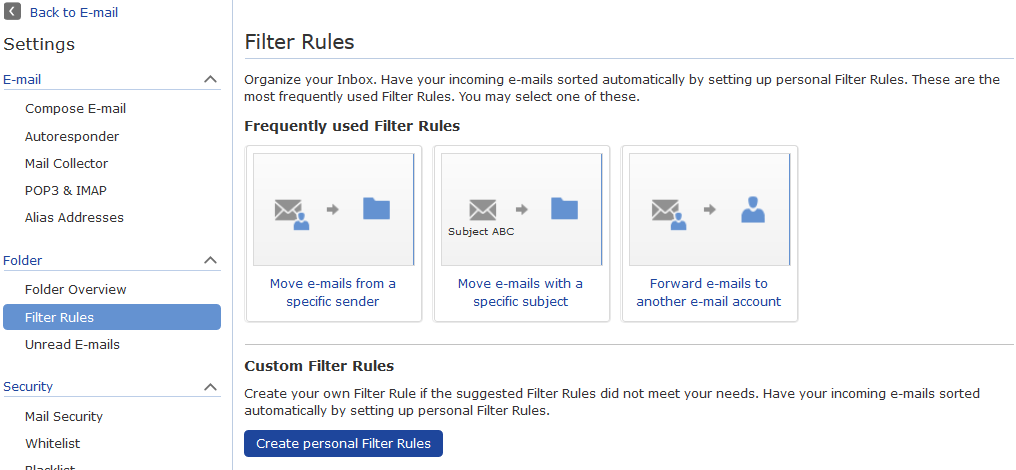 To set up a
Custom Filter Rule
, click
Create personal Filter Rules
and add or subtract conditions using the dropdown menus. To combine multiple conditions and/or tasks, simply click
+ More conditions
and/or
+ More tasks
until you have created your desired rule. Then click
Create Filter Rule
to activate your choices.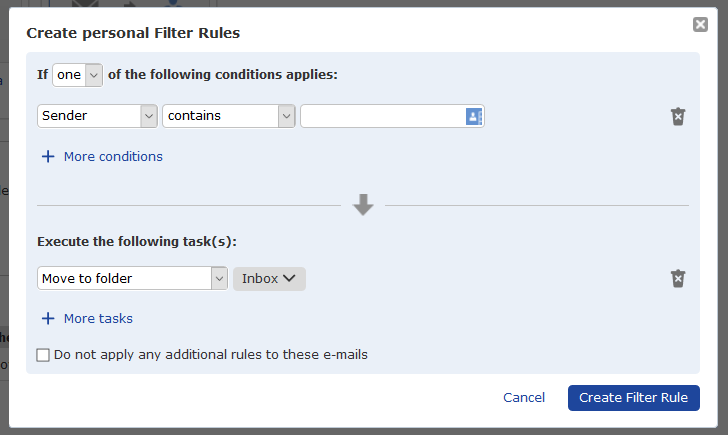 Changing filter rules
If you change your mind or the circumstances change, it's also easy to edit, deactivate, or delete a filter rule. Simply go back to
Filter Rules
under your
E-mail Settings
to see a list of your current rules. Mouse over the
wrench symbol
on the right and a list of actions will appear. Now you just have to click your desired option.

Good to know: Prioritization of filter rules

If you have a lot of filter rules set up, in some cases an incoming email may meet the conditions of more than one rule. This can mean that a rule is not applied. For example, a message might arrive that meets the conditions for a) moving the email to a specific folder and b) marking the email as spam. Only one of these tasks can be carried out.

By default, the filter rules in your mail.com inbox are executed in the order they were created and appear on your rule list. If you would like to change which filter rule has priority, you can edit their order. Go to Filter Rules and look at the list Your Filter Rules. Mouse over the rule you'd like to edit and an up and a down arrow will appear next to the rule. Click these arrows to move a rule to the desired position on the list.
Available filter rule tasks and conditions
Need more help defining your rules? Our Help pages have lists and explanations of the
conditions
(if…) and
tasks
(then…) available in your mail.com filter rules settings.
We hope you found this article helpful! We look forward to your feedback!
Images: 1&1/Shutterstock
35 people found this article helpful.