Let your free cloud storage work for you – online and offline
You think you don't need the mail.com Cloud? Then you probably don't know all the ways it can help you! Just by signing up for a mail.com account, you get a free backup solution with 2GB of space for storing photos and other files. Not only can you upload and store pictures, attachments, office files etc. to the cloud, you can create files directly in the cloud and access them on all your devices.
Email + cloud storage advantages
Email and cloud together are an unbeatable combination – when you are logged into your email account, the documents and photos in your cloud storage are only a click away. So it's perfect for saving and sending email attachments, for example. Not to mention that the mail.com mobile app is both an email and a cloud app, so you can maximize the usefulness of your mail.com Cloud by taking it along wherever you go.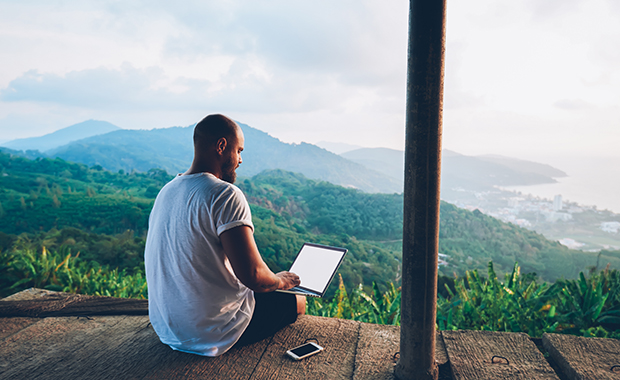 Save and send attachments in the Cloud
Say you couldn't make it to your niece's first birthday party because of a work trip – so sad! But your mom sent you an email with the cutest toddler photo ever attached. You don't just want to leave it sitting in your email inbox where you'll never look at it again. So with a single click, you save the attachment to your mail.com Cloud. Now you can create a "Cute Niece Photos" folder so you can find it again (and save any more cute photos that come your way), create a share link for your husband, view the photo on any device where you are logged into your mail.com account – and download it as well. Even better, the photo is now backed up in mail.com's secure cloud storage, so it remains safe and accessible no matter what might happen to your phone, computer, or social media account.
How to save an attachment to your mail.com Cloud

If you're logged into your mail.com account in your web browser and you'd like to save an email attachment to your Cloud, it couldn't be easier!

1. Click on the attachment. A menu will open
2. Select Save (Cloud) to save under the current file name. Your file will be saved instantly, and a pop-up will appear to confirm
3. Select Save as (Cloud) to select the Cloud folder and/or file name, then click Save to confirm.

If you're using the mail.com Mail App, simply tap the Save attachment link that appears automatically next to the attachment symbol, and your mail.com Cloud will open in the app. Tap the folder where you'd like to save the attachment, then confirm by tapping Save.

Good to know: Your mail.com Cloud synchronizes automatically, so you'll be able to view that attachment you just saved on any device where you log in to mail.com.
Mobile Cloud for sharing and backing up photos
Speaking of photos, nowadays a smartphone is the only camera most of us use. This is one reason why it really pays to have the mail.com Mail App installed on your phone: full access to your mail.com Cloud right on your phone. All you have to do is tap the
Cloud
icon in the bottom right of the app screen and you'll see any files, documents and photos you've saved in your Cloud. And you can also upload photos straight from your phone to your Cloud by tapping the
+
symbol on the Cloud screen. Once your photos are stored in your mail.com Cloud, you can share links and even password-protected links with trusted contacts. This is more secure than many other sharing methods.
Pro tip:
You can activate automatic photo uploads for secure cloud backup of the photos on your smartphone. For more details on cloud picture storage, see
Automatic photo upload with the mail.com mobile apps
. And if you need more cloud storage for photos, consider our
cloud upgrade
!
How to upload a photo from your smartphone to the mail.com Cloud

1. Open the mail.com Mail App on your phone
2. Tap the Cloud tab in the lower right corner
3. Tap the + symbol
4. Tap Pick photos
5. Tap the photos you want to select
6. Tap Add

Congratulations! The photos are now stored in your Cloud and will also remain on your smartphone until you manually delete them.

Good to know: Depending on your phone model, tapping the + symbol in the Cloud tab will also offer you the option to scan documents and/or take photos that are then saved directly to your mail.com Cloud.
Work offline in the mail.com Cloud
Some people believe one of the main disadvantages of cloud storage is that you can't access your files when you don't have an internet connection. mail.com has overcome the problem of online data storage with our Cloud synchronization tool. For example, what if you want to work on a presentation while you are traveling and you know you may only have patchy internet access?
First, upload your presentation to our Cloud and it will be available online on any device where you log in to your mail.com account. To access it offline on your Windows or Mac computer, all you have to do is install our free synchronization software. Now your mail.com Cloud will appear as a folder in your computer's file directory – containing all of your cloud documents, photos and folders. You can select your presentation for offline storage and Viola! – you can work on it offline and not have to depend on your hotel's slow Wi-Fi.
For download links and detailed installation instructions for our sync tool for Windows and macOS , please see the
cloud synchronization page
.
As you can see, the mail.com Cloud in your inbox is an easy and effective way to access your files and photos and stay organized across all your devices!
Did this article give you new ideas about how to use your mail.com Cloud? Before you start uploading files, leave us some feedback below!
Images: 1&1/Shutterstock
90 people found this article helpful.