Birthday reminders: How to never forget a birthday again
Everybody likes to be remembered on their birthdays – in many cultures, it is an important celebration that makes the birthday boy or girl feel special and appreciated. So it can also be very embarrassing to forget a birthday. But with so many friends, relatives and coworkers to keep track of, it's easy to drop the ball.
Our advice: Learn the birthdays of your immediate family by heart, and use these tools to remember the rest!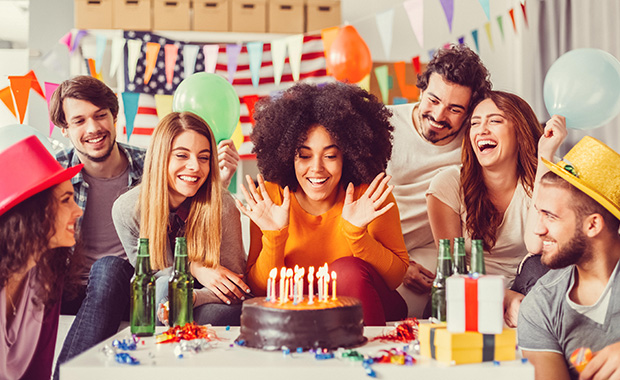 Forgot a birthday? Here are the best tricks for remembering birthdays:
With mail.com, most things are possible, even birthday alarms. Many email programs like Gmail and mail.com will also display the birthdays of your saved contacts in your calendar. If you make sure you enter the person's birthday along with their other data when you add them to your email address book, you'll be able to see their birthdays when they roll around. All you have to do is enable the birthday calendar in your Google Calendar or
mail.com Organizer
and all the birthdays will be visible.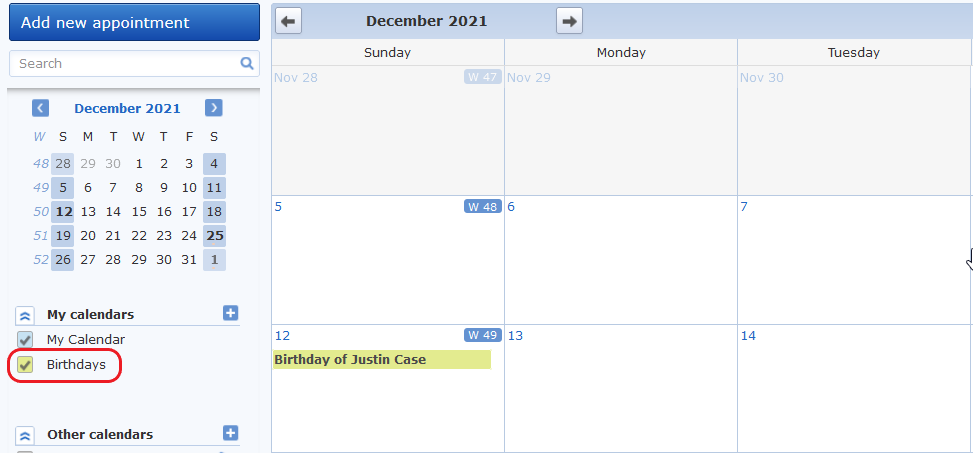 mail.com lets you set a birthday reminder just like for all other
appointments in your Organizer
. To add a birthday reminder, click on the birthday entry in your Organizer and a pop-up window will appear. If you have a default reminder setting in your Organizer, it will be listed here and you can see if it matches your preferences for this birthday. If not, or if you don't have default reminders activated, click
Edit
to set up the reminder you want for this particular birthday, then
Appointment details
to expand the window. Set up whatever email reminders or notifications you like – you can even add multiple reminders by clicking
+ Add reminders
. For example, you can set up a reminder two weeks before the birthday so you remember to buy a present or send a card in advance, as well as a notification on the actual day. Be sure to click
Save
when you are done!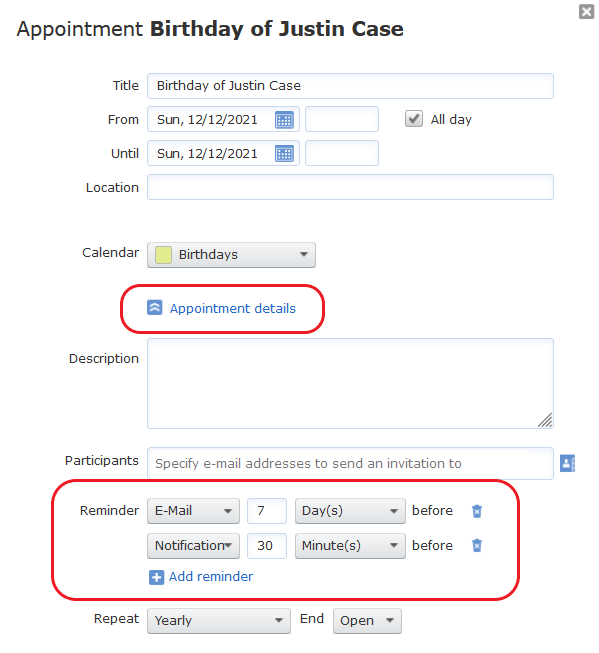 Now that you're well equipped and know how to set up your birthday reminder in your mail.com Organizer, we will let you know how you can also send a friendly birthday reminder along with that. You can send a friendly birthday reminder to remind your friends about your birthday party festivities, or just to sync your calendars. With the mail.com Organizer, you will have the ability to select the reminder frequency as well as the location and description.
Log in to your mail.com email account, select Organizer
On your calendar, select the day and time you wish to have your partayyy!
The Create a new appointment window will appear, to see the options for creating a friendly birthday reminder, select Appointment details
Add you participants, location, description, reminder, and repeat frequency.
Click Save
You're all set. Your participants will receive this friendly birthday reminder in their email inbox.
Let's admit it – Facebook has saved us more than once by alerting us to an old friend's birthday. If sending the birthday boy or girl a DM or posting on their wall is how you usually send birthday greetings, this may even be the only solution you need. However, if you only check Facebook once a week – or even less frequently – there is still a chance someone's special day will slip through the cracks. Plus getting a reminder on someone's birthday does not give you enough time to buy and send a gift or get a card in the mail.
You can solve the latter problem by checking to see what birthdays are coming soon. On your main Facebook feed (Home), on the left menu click
Explore
>
Events
>
Birthdays
. Here you can scroll through your friends' birthdays, including the all-important "Upcoming Birthdays". Unfortunately, this only works if you are using Facebook in a browser, not the app. But you can use the app to check birthdays individually – just go to the person's profile and click "About Info" (only if they've enabled others to see their birthday).
If you already manage your time with your smartphone's calendar app, this may be the best way to give yourself birthday reminders. This method requires you to be disciplined: Whenever you add a new contact to your phone, you should save their birthday along with the other info. This effort really pays off, because any birthdays entered in your smartphone contacts should automatically appear in your calendar.
The major advantage of keeping track of birthdays with your smartphone calendar is that you can set up automatic alerts for birthdays. For example, for birthday reminders on an iPhone, go to
Settings
>
Calendar
>
Default Alert Times
>
Birthdays
and then select your preferred interval to receive alerts.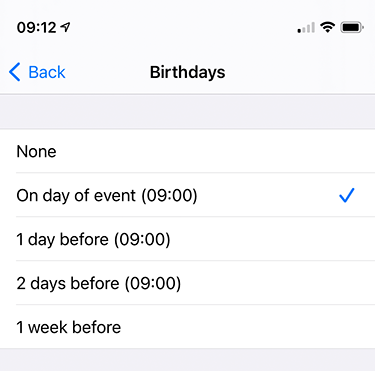 Pro tip: If you use the mail.com mobile app, you can sync the calendar on your phone with your mail.com Organizer. See our deep dive on how to set up calendar syncing in our Android app.

You don't have to be tech savvy to enjoy the wonders of birthday reminder services. After all, the original birthday reminder was the good old-fashioned traditional wall calendar. If you don't want to pencil in important repeating dates like birthdays or anniversaries every year, consider using a perpetual calendar. These calendars can be reused every year because they only give the month and the date without naming the day of the week. You just need to take the time once to write down all the special days you'd like to remember, then hang it somewhere you'll see it every day – inside your pantry door, on the wall next to your regular calendar, next to your bedroom mirror, etc.
Choose one of these methods and you will be that incredible friend who never forgets a birthday! And if you still don't have a mail.com account, you can
create your free email address here
.
This article first appeared on Nov. 11, 2021 and was updated on Feb. 2, 2023.
Images: 1&1/Shutterstock
88 people found this article helpful.