mail.com Organizer: Get the most out of your online calendar
Whether you are planning a family reunion or need a reminder for an important appointment, the mail.com Organizer can help you get – and stay – organized. It can serve as an online appointment scheduling tool and day planner, and offers calendar share and synchronization features. Today, five features you can use to stay on top of your busy schedule.
With a free online calendar that's integrated in your email account, it's easy to keep track of your schedule. Use these five tools to get the most out of your mail.com Organizer: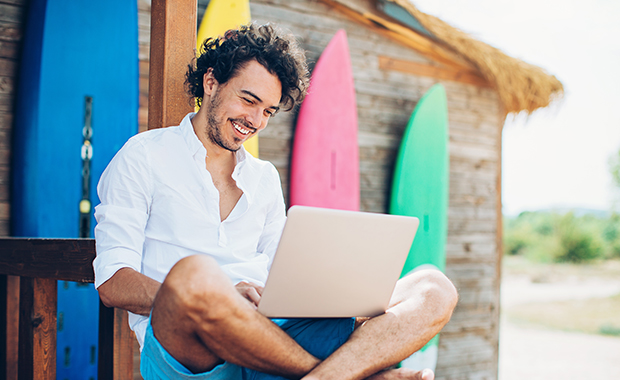 Not only can you view your calendar in the way that is most useful to you – by the year, month, week or day – but also automatically display dates that are important to you. In the Organizer tab, go to the left menu under
My calendars
, click the box next to
Birthdays
, and all birthdays you have saved in your mail.com Contacts will automatically be shown. You can even set up
birthday reminders
so you never forget to call your grandma on her special day! To add public holidays, local weather forecasts and more to your online schedule, click the
+
symbol next to
Other calendars
.
To enter appointments into your Organizer, simply click on the date and a window will open where you can enter the date, time and location. Click
Appointment details
for advanced settings, like
Repeat
to select an interval (weekly, monthly, etc.) for a recurring appointment. You can also set up an email reminder or notification for your appointment. If you need more help with this function, no worries – check out our
post on setting reminders
.
Whether you are planning a block party or a meeting with a client,
Appointment details
is also where you go to send invites. Just start typing in the name or email address and mail.com will automatically find the participants in your saved contacts. You can also set up one or multiple reminders for you participants. When you have added all your participants, press
Save
and your invites will go out.
Once you have set up an appointment, if there is a change in plans you can click on the date in your calendar and use the
Edit
option to make the necessary updates or manage the participants.
If you'd like to regularly synchronize your mail.com Organizer with another online calendar, you can go to your
Organizer settings
(in the lower left corner of your screen) and click
Integrate external calendars
. Here you have the option of adding the Calendar URL of other online calendars so your mail.com Organizer will automatically be updated with new appointments. Since the setup process can differ according to which external online calendar you use, if you are interested in this feature you may want to read our instructions for
synchronizing with Google or Outlook calendars
. If you are migrating to the mail.com Organizer and would like add events from your old online calendar, it is also possible to
import your appointments from other calendars
: simply go to
Organizer settings
>
Import
and follow the instructions.
Whether it's your family or your project team, sometimes it can be helpful to have everyone's schedule in one place. With our share function, you can let others see specific calendars and authorize them to enter, delete or change appointments. Here's how it works:
Go to the Organizer tab and click Organizer settings at the bottom left.
Under the general settings, click Share.
Select the calendar you want to share.
Under Issue and manage personal shares, you can grant new calendar share rights by entering the mail.com email address of the person you'd like to share with and selecting the level of access from the dropdown menu.
All existing calendar shares will also be listed here. To edit or delete a share, mouse over the email address and click the wrench symbol that appears on the right.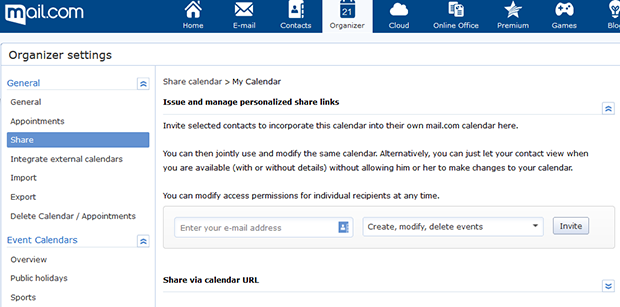 We hope this post helps you discover all the features you can use to manage your time with the Organizer! We look forward to your feedback.
Images: 1&1/GettyImages
31 people found this article helpful.