Use the mail.com Cloud to back up and share your holiday photos
It's holiday time! Many of us are getting together with friends and family we haven't seen for some time and celebrating with our nearest and dearest. And to capture the memories, we are taking lots of photos! So it's great to be able to free up space on our phones, back up photos safely, and share them with others.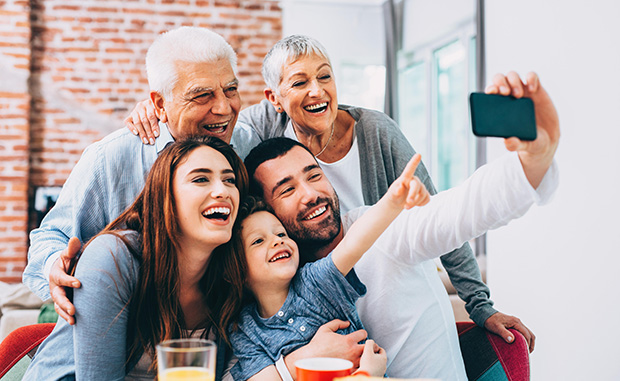 Today we show you how it's done – with mail.com's free cloud storage for photos and more!
Upload and back up photos
mail.com knows that when it comes to storing and sharing photos, everyone has different preferences and ways of working. So we offer several options for uploading and managing your photos. Check out the list below to see which one(s) work best for you!
If you like logging into your email account in your web browser, you'll be pleased to learn that there are several ways to upload, save and share photos here. First things first: Open your preferred web browser and log in to your mail.com account as usual. Then click the Cloud symbol in the upper navigation bar to access your online storage. If you have already saved the photos from your smartphone or camera to your computer, you now have two easy options for uploading them to your cloud picture storage:
Click on the Upload button in the upper left corner of the Cloud screen and select Upload photos or Upload folder from the drop-down menu that appears. A window will open showing the files on your computer hard drive. Select the photos you wish to upload and click Open.
Or if your Windows File Explorer is open, you can simply drag and drop the photo(s) into your opened Cloud.
Whichever method you use, the photos will now be saved in your cloud. They will remain on your computer's hard drive, but a copy will also be stored on the mail.com remote server. This means you can access the uploaded photos anytime or anywhere you have an internet connection and share them with friends – and you won't lose them if your hard drive is damaged by a power surge or computer virus.
But what if the photos you want to upload are still on your smartphone and you'd like to skip the step of transferring them to your computer hard drive? No problem – you can upload them directly from your smartphone to your online photo storage using a QR code:
In the Cloud tab of your mail.com email account, click on the Upload button in the upper left corner of the Cloud screen and select Upload from smartphone from the drop-down menu that appears.
A QR code and a password will appear
Open your smartphone's camera app, hold up your smartphone to the screen so the QR code appears in the viewfinder, and click on the web link that pops up.
A window will appear asking you to enter the password (you'll find it under the QR code on your browser screen). Enter it and press Verify password.
Now tap Select file and choose Photo Library.
Select the photos you'd like to upload to your mail.com Cloud and tap Add.
Whichever method you use to upload photos to the cloud, you can keep things organized by creating folders. Just go to the
Cloud
tab, click
Create folder
in the top navigation bar. A popup window will appear; type in a folder name and press the
Create folder
button to save. Once the folder is created, you can drag and drop photos into it – or select the photo, click
Move
, select the folder you wish to place it in, and click
Paste
. You can also
share entire folders
with trusted contacts – so you can upload all your photos from a holiday party, create a share link, and send it via email, text, or social media link.
Of course, if you have the
mail.com app
installed on your smartphone or tablet, you can upload photos directly from your device to the mail.com Cloud in just a few taps. Simply open the mail.com app and tap the
Cloud
tab at the bottom of the screen. Tapping the + symbol gives you the option of picking photos from your device to upload to your cloud, taking a new photo and saving it to your cloud, or creating a folder to keep your cloud organized. You can also go to
Settings
>
Cloud Settings
>
Automatic backup
to activate automatic backing up of photos and/or videos on your device to the mail.com Cloud.
Good to know:
photos that you upload to a mail.com account's cloud storage via the web browser will be accessible in the mail.com Mail app and vice versa.
Just like Dropbox or other cloud-based file-sharing services, the mail.com Cloud lets you create a link for trusted recipients to view or download your photos, which are often too large to send as regular email attachments. Once you have uploaded your photos to the mail.com Cloud, select a photo or folder and click
Share
to create a guest link, which will appear in a popup window. You can either copy the link and paste it manually into an email or text message for your recipient, or click
Send a link via email
to automatically create an email containing your link. If you would like to set a password for opening the link, first click
Share configuration
to set the password, which you can then share separately with your recipient.
We hope you found this article helpful! Before you get starting uploading photos to the cloud, please leave us some feedback below!
Images: 1&1/Shutterstock
20 people found this article helpful.