How to ask for a donation in an email – with examples
Every good cause, from earthquake relief to the local Little League, needs money to run effectively. But no matter how worthy your cause, asking for donations can be a challenge. Email to the rescue! Our explainer shows you how to ask for a donation in an email and get results – including wording examples.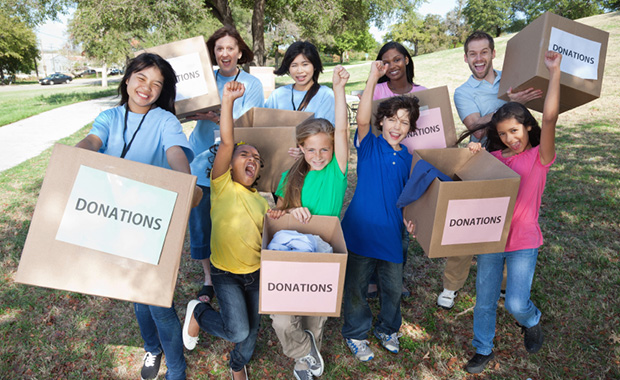 Email can be a very cost-effective method for requesting donations. That's because it's a direct way to reach out to people without scheduling an event or printing letters or leaflets. Plus, email lets you reach many potential donors, including those who are geographically distant. A donation email is also easy to personalize, from addressing each individual recipient by name to sending a tailored charity message to a specific donor group.
To get results, it's important to craft your donation email carefully to make it an engaging and effective fundraising tool.
How do you write a professional email asking for funding?
To achieve the best results, your fundraising message should be authentic: customized to your cause and personalized to the intended recipients. That said, there are some basic steps to writing an email asking for a charity. Here are seven tips to help you craft an effective and compelling message:
Keep it personal. Address the recipient by name and talk to them as "you". Make sure your tone is friendly and polite.
Tell your story clearly and concisely. Give a brief summary of the challenge being faced and how the donor can play an important role in solving it.
Make your ask early in the message. Don't beat around the bush or keep the reader guessing.
Be specific about what you will do and the impact the donation will have.
Make it easy for the recipient to donate! Even if you have convinced someone to give to your cause, they are likely to change their mind if faced with a broken link, a long form, or confusing instructions. If possible, include a "Donate now" button linking to a user-friendly donation page.
Express gratitude – thank the recipient for considering your request.
Sign off by name and provide contact information for your organization. This not only lets the reader request more information if needed, but also helps show that your charity is legitimate and not a scam.
What's a good subject line for a donation email?
The subject line is what makes the recipient decide whether to open your email, so it's important to get it right. It should grab the donor's attention and communicate the purpose of the email clearly. That's why you should keep it short and informative. Remember that subject lines often get shortened on phones, so it's best to stay under 65 characters. It's ok to be direct with your audience and create a sense of urgency with words like "now" and "important". Just don't use ALL CAPS or excessive punctuation!!!!! because that can look spammy.
Here are nine examples of effective donation email subject lines you can adapt to your cause:
[Wildfires in Colorado]: Join the relief effort now
Your donation can [save animals in your city]!
Urgent: [Local organization] needs your support
Give hope to [flood victims] with your donation
[Safe drinking water]: Make an impact with your donation today
Be a hero and donate to [our homeless shelter] today
Together, you and [our organization] can make a difference
[Change a child's life] with your donation
Donate now and help us [rescue puppies]
What is the best day of the week to ask for donations?
Now that you've honed your fundraising message, think about what day your recipients might be most inclined to give. It makes sense that a lot of people will be stressed on Mondays as they start their workweek and have less time to consider your request. On the other end of the scale, on Fridays the focus is often on wrapping up work and getting ready for the weekend – which in turn is about relaxing, taking care of the yard, watching the game… This is why many fundraising organizations point to mid-week – Wednesday and Thursday in particular – as the best days to ask for donations. However, the best timing will depend on your target group. For example, retirees have a different approach to weekends or Mondays than busy executives, who in turn have different schedules than young families. Ultimately you may have to test different days to see what works best for your audience.
You should also give some thought to the time of day you schedule your donation request. If your email hits their inbox during a mid-morning meeting or in the middle of the afternoon school run, it is less likely that they'll have time to open it. People have more time to look at emails around lunchtime – 11 am to 1 pm – or in the evenings between dinner and bedtime, i.e. around 8 to 9 pm. If you are sending a national or international appeal, make sure to consider time zones!
Asking for donations: Wording examples
At a loss for words? Use our donation email templates to get started!
Here is a general donation request template you can adapt to your cause:

Subject: Urgent: [Local organization] needs your support

Dear [Recipient's name],

I hope this email finds you well. As you may know, our organization is dedicated to [organization's mission or purpose]. We rely on the generosity of donors like you to make a difference in the lives of those we serve.

Your donation will help us [specifics about how the donation will be used and the impact it will have]. Every contribution, no matter the size, makes a significant difference in our ability to make a lasting change in our community.

To make a tax-deductible donation, visit our website [button or link to your donation page] or follow the instructions below.
[list of easy-to-follow steps on how to give].

Thank you so much for considering our request. Your support means the world to us and will have a genuine impact. If you have any questions or would like more information about our organization, please don't hesitate to contact me.

Best regards,
[Your name]
[Your organizations' contact information]
Here is a sample email requesting a donation for a specific cause:

Subject: Urgent request for donations to support earthquake relief efforts

Dear [Recipient's name],

As you certainly have heard, a devastating earthquake recently hit [location]. This disaster has left the community in chaos, with many families left homeless and in urgent need of food, shelter, and medical assistance.

[Organization name] is working tirelessly on the ground to provide relief to those who have lost everything, but we cannot do it alone. We urgently need your support to get essential supplies to injured and displaced residents before time runs out.

Your donation, no matter how small, will make a significant impact on the lives of the families affected by this disaster. All contributions will go towards providing them with shelter, food, clean water and medical supplies, which will be delivered immediately by our local relief teams.

To make a donation, please visit our website [website link], where you can securely donate using your credit card or PayPal account. Your donation is tax-deductible, and we will provide you with a receipt for your records.

We understand that there are many worthy causes out there, so we deeply appreciate your contribution this urgent relief effort. Your generosity will make a real difference in the lives of those who are struggling to rebuild their lives in the aftermath of this devastating earthquake.

Sincerely,
[Your name]
[Your organizations' contact information]
Use our guide the next time you ask for donations online. And don't forget to follow up and thank your donors – this is key to building lasting relationships!
If you still don't have a mail.com account, why not
create your free email address here
?
Images: 1&1/iStock
856 people found this article helpful.