Ask the Expert: mail.com customer support
At mail.com, we strive to offer our users the best possible email experience. But if you do have a question or an issue, mail.com Customer Care is standing by to assist you.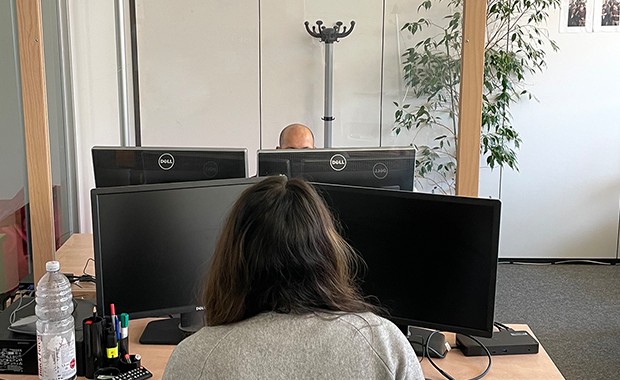 We interviewed two experts from our second-level customer support team to introduce you to the people behind the emails – and offer some insights into the mail.com support process.
mail.com blog:
Can you describe the steps in the mail.com customer care process? What happens before a customer question makes its way to you?
Eva
: Every company has its own customer support process and we understand it can sometimes seem a bit opaque to users, so we'll try to add some transparency here: When a customer has questions or an issue with their mail.com account, they can go to our website and reach out to us using the contact form. On the form they can choose the category that their question falls into, and depending on that they'll get an autoresponder (AR) or a ticket/mail confirmation. The AR contains some troubleshooting suggestions that they can try immediately, so often it's the fastest way for them to solve the problem.
Robert
: Right, and if the suggestions in the AR don't answer the question, the customer can then reply to that email and a ticket is created in our support tool queue. Our first-level agents handle the ticket and reply to the customer within 24 hours. But if the customer still has questions after that or the case is a bit more technically complicated, those agents will escalate the ticket to second-level support – that's where our team comes in. And sometimes these cases require the involvement of other departments such as developers, security, legal, product management and that is why certain tickets take longer to be resolved.
Eva
: The same basic steps apply to customers using our apps, by the way – but in the app they can start by clicking on the
Help and Feedback
button at the bottom of the menu, and if they don't find an answer in the FAQs they can tap
Report a problem
and a ticket will be created.
mail.com blog:
So what does a typical workday look like for you? How many customer questions do you handle per day?
Eva
: A typical work day includes solving customer ticket inquiries, meetings, process optimization, and personal development projects as well as customer feedback review. There is also coffee involved! Things have changed a bit due to the coronavirus pandemic, but not too much. We have more or less the same tasks, but there are phases where we've had to work from home.
Robert
: We've also introduced "power hours" where we focus completely on customer inquiries. Once those are done, we focus on other tasks and process optimization. On an average day, first-level support handles around 500 customer tickets, and second level handles approximately 100.
mail.com blog:
What do you do if you don't know the answer to a customer question right away? Do other teams get involved in solving tricky customer issues?
Robert
: As I mentioned before, if we are not able to resolve a case, we usually ask other departments for input or feedback. As an example, if customers are experiencing a bug within our services, we report the case to the responsible developers and a bug report is created. After the case is resolved (which might take some time) we inform the customer of the outcome.
mail.com blog:
What is one thing you wish you could tell customers to save them trouble down the road?
Eva:
A lot of times customers are frustrated when they receive an automated reply at first because they think we have not read their questions or issues properly. But as I mentioned earlier, the AR is meant to provide some troubleshooting suggestions that in many cases are the fastest and easiest way to solve the problem. After that the issue goes to an actual person, and we take time to read the complete ticket and provide the best possible resolution on the issue in a timely manner. I'd like to tell the readers that it's important to keep communicating with support using this email chain rather than sending the question again – that just restarts the process, which slows things down rather than speeding them up.
Robert
: I'd like to tell customers to make sure they have an up-to-date contact email address or mobile phone number saved in their account settings. They are an essential part of the automatic password recovery process, should you ever need it. Not having them saved means it will take you a lot longer to recover your password.
mail.com blog:
Tell us about a time you were proud of the service you provided.
Robert
: When helping some older or not so tech-savvy customers, it is important to empathize with their situation and be really descriptive and clear in our instructions in order to achieve a resolution. Once the issue is resolved, hearing positive feedback from them does make me feel like we made a difference.
Eva
: When assisting a long-time customer you start to recall their previous issues and contact you've had. Once you communicate with them a few times you reach a point where you form a personal connection that even approaches friendship. Helping those customers really keeps me motivated.
mail.com blog:
And what about the cases where people are upset or you can't help them?
Eva
: There are of course times when customers unfortunately face issues that cannot be resolved with the hoped-for outcome. We empathize with them, but we all need to understand there are situations where the agents are limited in terms of the solutions they can offer. What we can do on our side is to be as transparent as possible no matter the negative feedback or outcome.
Robert
: We also always try to take any type of feedback and share it with other relevant departments or stakeholders and take it into consideration for further improvements. So even if there is not an immediate solution, maybe one can be created in the long run.
mail.com blog:
You spend your days working with computers – what about in your spare time? Are you IT nerds, or do you try to get away from the screens?
Robert:
Sports, yoga and meeting friends helps disconnect me from a day of working and stay away from screens after hours.
Eva
: I relax by taking walks with my dog or cooking while listening to music. I also enjoy PC and console gaming, which does put me back in front of a screen, but of course it's completely different from work!
mail.com blog:
Thanks for talking to us today!
About the experts:
Robert has been working as a Customer Experience Manager in the international email department at 1&1 since 2018. He is originally from Spain. Eva also joined 1&1 as a Customer Experience Manager in 2018. Originally from Greece, she has worked in this field since 2012.
We hope this post gave you some useful insights into the mail.com customer support process. We look forward to your feedback below!
Images: 1&1
53 people found this article helpful.