How to turn on email notifications with mail.com
Tired of checking for new emails through multiple sources and accounts? Surely, you think, there must be an easier way to stay on top of your messages! And there is: MailCheck provides quick access to your inbox(es) as well as instant email notifications in your browser.
Today, you'll have everything you need to know about how to turn on email notifications and one-click email login in your web browser. Plus for users of our Mail Apps, a bonus explainer on email notifications on iPhone and Android phones.
What is MailCheck?
MailCheck is mail.com's browser extension that allows instant email notifications to be generated in your browser whenever a new email arrives in your inbox. You can even customize the notifications to include sound. By simply installing the add-on, you have access to new messages directly in your browser toolbar, all easily retrieved with a single click. The one-click email login can be set up simultaneously for multiple accounts – and not just for email addresses from mail.com.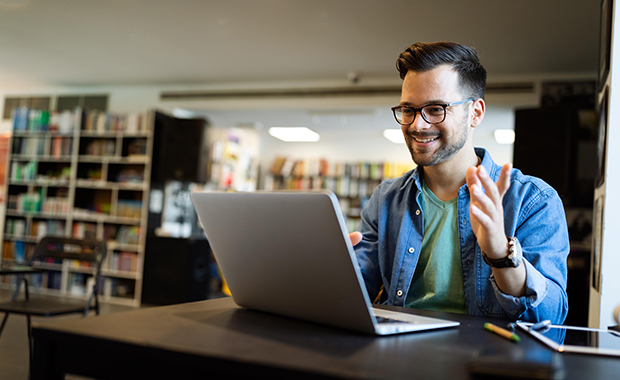 How do I install MailCheck?
mail.com currently offers the browser extension feature for the following browsers: Chrome, Firefox and Microsoft Edge. The installation process only takes a few easy steps:
Start the installation process by simply clicking on your browser type on the mail.com MailCheck page.
Agree to the installation.
Enter your mail.com email address and password – in other words, perform one full login. Don't worry, you won't have to go through this step every time you need access to the MailCheck feature.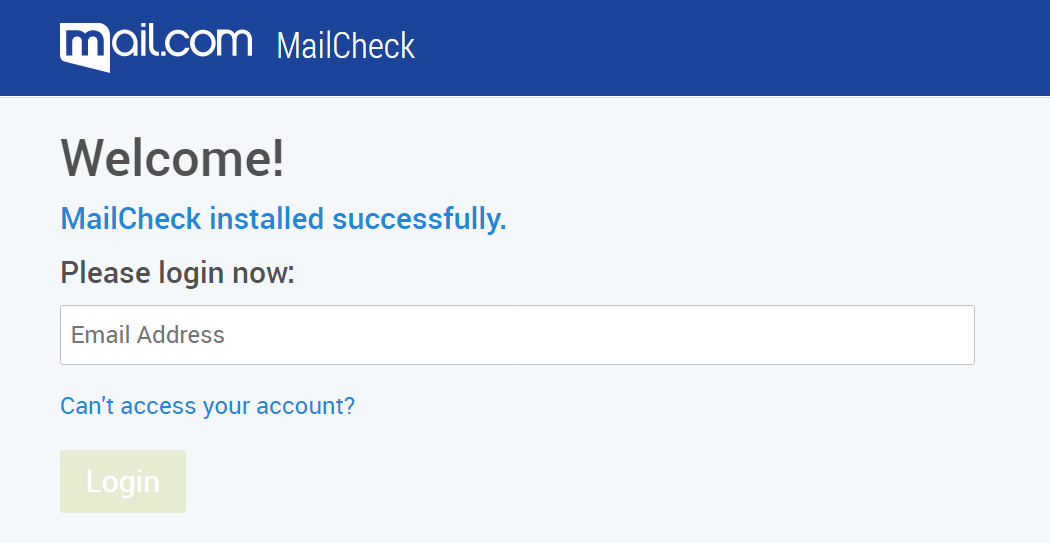 Once you have successfully completed these steps, you should spot the MailCheck envelope blue icon in the toolbar of your browser. Now MailCheck is ready for you to use.
How do login and notifications work with MailCheck?
Now that you have installed the MailCheck add-on, you will be notified whenever you receive a new email in any of the email accounts you have entered in the tool. A red circle and the number of new messages will appear on the MailCheck icon in your toolbar, and you can customize notifications for sounds as well. To customize the settings of this feature or to add additional email accounts for easy access, click the gear symbol in the lower right corner.
To access all your unread emails, click the envelope icon. Clicking on an email will open it in your account inbox with no further login required. You can also write a new email by clicking the icon to the right of your email address.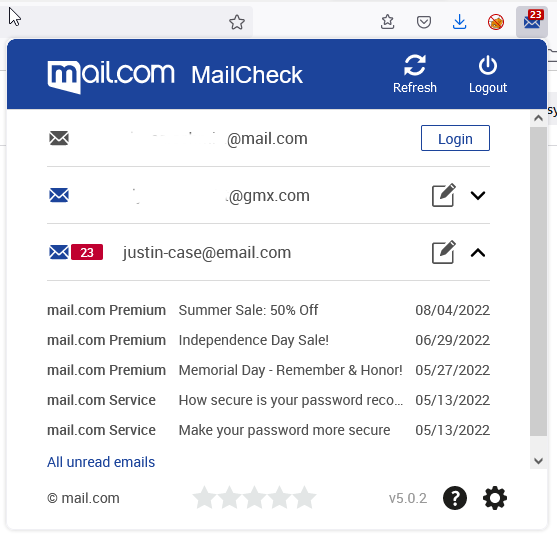 How to turn off email notifications in MailCheck
You can customize your notifications for each email account in MailCheck or even deactivate email notifications:
Click the MailCheck icon in your browser toolbar and open the settings by clicking the gear symbol
Click Email in the left menu
Click the email address you wish to adjust notifications for
Use the checkbox next to Play sound to activate and deactivate audio notifications
Use the checkbox next to Notifications to activate and deactivate visual notifications
Would you like more information about MailCheck?
Then check out this page with download links for your browser type, lots of useful details, and FAQ:
MailCheck: Intelligent Notifications
Email notifications on iPhone
If you use the
mail.com Mail App for iOS
, you can also turn on email notifications on your iPhone.
Open the mail.com Mail App, go to the menu and tap Settings
Tap Mail Settings
Tap Notifications (push)
If you have not enabled notifications for this app on your iPhone, when you try to activate notifications you will now be prompted to go to your phone settings. Tap Open Settings and then Notifications > Allow notifications. If notifications are already enabled on your phone, no prompt will appear.
Toggle on Notifications (Push) and adjust your notification settings to reflect your preferences.
Please note that notifications will play sound by default, but you can turn them off by tapping Sound > No sound
Email notifications on Android
The
mail.com mobile app for Android
also lets you activate notifications for new emails:
Open the mail.com Mail app and tap the menu symbol
Open the settings by tapping the gear wheel symbol
Tap your email address
Scroll down to Notifications and activate New mail notifications by tapping the checkbox
Tap New mail ring tone to change the notification sound or set notifications to silent. Tap the Vibrate checkbox if you prefer to be notified by vibrations
We hope this information proves to be helpful and that you find the MailCheck feature just as practical as we do! Before you dive into the installation process, please give us some feedback below.
Images: 1&1/Shutterstock
883 people found this article helpful.