Send full resolution photos over WhatsApp on your Android phone
If you are like millions of other people across the planet, you use WhatsApp to send very important pictures of your cat or your latest craft project to select friends and family members. But the pictures are sent in a highly compressed format, so they aren't really usable outside the app.
Today we'll show you an Android workaround that lets you send files at their full size – directly from your mail.com Cloud.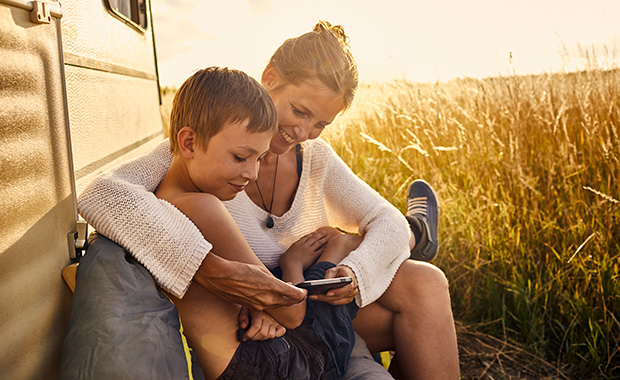 How to share full size photos on WhatsApp
Good news for Android users: You can now share photos and other files in their original size – in other words, with no loss of quality – in the WhatsApp messenger application. This is useful if you'd like to share a photo in a high enough resolution that it can be printed or viewed on a larger screen.
Do you have the
mail.com mobile app
installed on your Android phone? Then here is a great new life hack: You can even access and share photos, videos, and other large files from your mail.com Cloud directly in WhatsApp.
Normally when you share a photo via WhatsApp, you select it from your
Gallery
. Next time you'd like to send a full-size file, tap
Document
instead. This gives you the choice of selecting a file from the images, documents, or downloads saved on your phone – or right from your mail.com Cloud.
Here's how it works:
In the WhatsApp application, open a chat with your desired recipient
In the text field, tap on the paperclip symbol
Tap Document > Browse other docs...
Under Browse files in other apps, tap the mail.com Mail & Cloud icon OR
Tap the three-dash menu at the top left and select the mail.com Mail & Cloud from the Open from menu
Your mail.com Cloud will open
Select the image you'd like to share by tapping on it
Add a caption if desired and tap the send symbol
Your image has been shared via WhatsApp -- without any loss in quality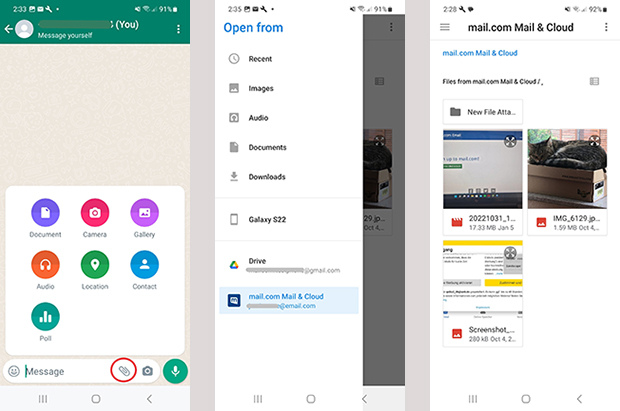 Good to know:
When you send your picture using the Document tool, no preview of the image will appear inside the WhatsApp chat – you and your recipient will only see the file name, format and size. Tapping on the image will open it, and the recipient can then save it to their device – the exact process will vary depending on the type and model.
Not using your free mail.com Cloud yet?
When you open a mail.com account, in addition to email you get 2 GB of free online storage right in your mailbox. Not only is your Cloud secure and reliable, but it can also be opened with your mail.com Mail App. So you can access your Cloud files on any device where you're logged into your mail.com account.
Learn more about the mail.com Cloud
.
Still don't have an email account with mail.com?
Sign up for free here
.
Images: 1&1/GettyImages
18 people found this article helpful.