How to compress a file to ZIP: Step by step
Photos, videos, presentations – some computer files are so large they are hard to send as attachments. And if you have limited storage space on your computer, large files can cause problems. mail.com shows you how to zip files to make them smaller and gives you some recommendations for (free!) software you can use.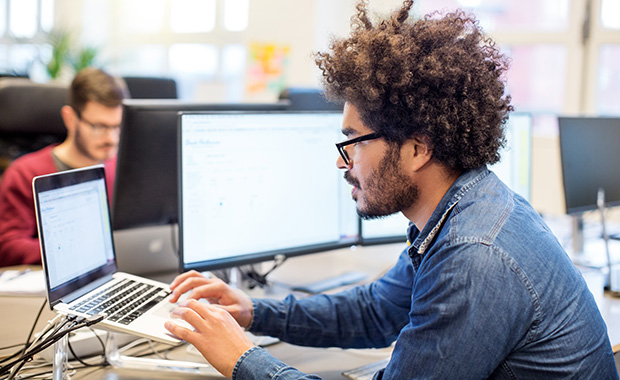 How to zip files to save space – and what software to use
Have you ever wanted to send some photos or a large document as an
email attachment
, but received an error message that your
attachment is too large
? Or received a warning on your device that your hard drive is full? One solution is to compress your files. How does this work? Picture stuffing a puffy sleeping bag into a compression sack – the resulting bundle is significantly smaller and easier to pack and carry, but when you arrive at your campsite and pull out the sleeping bag, it puffs back up to its original size. The same applies with zip compression: You create a ZIP folder that functions like a compression sack and you can "stuff" one or several files into a compact bundle of data. Your files are compressed to as little as 12% of their original size, so a 100 MB file can be squeezed down to as small as 12 MB – well within the attachment limit of almost any email program. On the other end, your recipient unpacks the compressed file, which restores it to its original size with no loss of quality. This process is called "zipping" and "unzipping."
If you use a Windows or Mac computer, you already have the tools you need to zip or unzip files. The process is easy and only takes a few clicks.
Zip a file in Windows
To zip a file on your Windows computer:
Go to your Explorer and select one or several files that you want to compress
Right-click on your selected file(s) to open the context menu
Click on Send to > Compressed (zipped) folder
A ZIP folder with the same name as your file will appear in the same location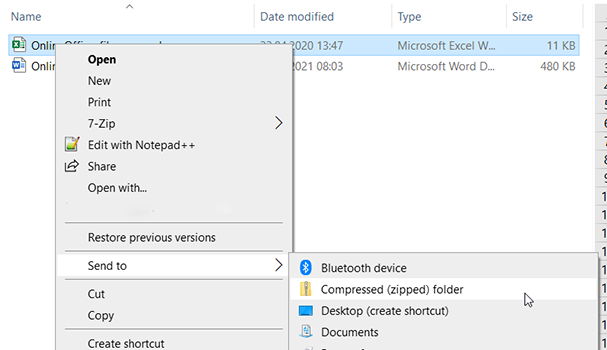 Zip a file on your Mac
To zip files in macOS:
Go to your Finder and select the file(s) that you want to zip
Open the context menu with a right click
Click Compress objects
The compressed ZIP file will appear in the same path.
Whether you are using a Mac or a Windows computer, you can send your newly created ZIP folder just like you would any other email attachment. And the same ZIP tool on the recipient's computer will allow them to click and open it just like they would any other folder – the contents will automatically be unzipped and return to their original size.
How do I zip a folder?
Zipping a folder works just like zipping a file. Simply go to your file management application and single click the folder you'd like to compress to select it. Once it is selected, right-click to open the menu and follow the same steps listed above.
If you follow the steps above correctly and your file does not seem to be a lot smaller, take a look at the file type. Some kinds of files are already highly compressed, so zipping them will not make them significantly smaller. This includes image files (e.g. GIF, JPG, PNG), video files (e.g. MPG, AVI) and music files (e.g. MP3). Certain types of encrypted files also do not compress well. In addition, a file that has already been compressed using zip software will not become much smaller if you add it to another zip folder.
You've tried to compress your file with a Zip tool, but the resulting Zip folder still exceeds your size limit for email attachments. Here are a few other options you can try:
Upload your file to the secure mail.com Cloud or an online file sharing service and send a share link to your recipient
Try a different compression format, like the 7z format offered by 7-Zip (see below)
Break down the file into several smaller files, e.g. if you have a PowerPoint presentation that contains 30 slides, try saving it as three files with 10 slides each.
Increase your attachment size limit to 100 MB by upgrading to mail.com Premium
If you just want to compress files to make them easier to send, the built-in Windows and Mac zip utilities are fine. However, compared to specialized file compression software, these tools are very limited. For example, they can only read and create ZIP files but there are many other file compression formats. In addition, if you are looking to free up space or back up data on a hard drive by archiving files, you will probably want advanced software that can help you manage these files. Plus the basic utility for Windows and Mac does not support encryption. So if you use it to compress an encrypted file, it will be decrypted when the recipient extracts it.
The best known zip software out there is probably
WinZip
, which offers a raft of file management features as well as extreme ease of use for compressing, packing and unpacking, opening, and managing files in a variety of formats.It also gives you data security options like encrypting files during compression. Although the recipient of such a file will require a password to open it, they do not have to have WinZip installed to do so. WinZip software is not free, although you can take advantage of a 45-day free trial to thoroughly test the software and decide if it's right for you.
There is also good news for anyone who doesn't want to pay for advanced zip file opener and compression software. Several excellent open-source and free zip software options are available. The following WinZip alternatives are easy to use and let you create file archives in any format. They all offer a full range of functionality to let you manage your files and archives:
Now you know how to zip and unzip files and folders! Before you head to the zip file compresser to test your new skills, why not leave us some feedback below?
This article first appeared on March 6, 2022 and was updated on February 16, 2023
Images: 1&1/GettyImages
107 people found this article helpful.