Job search: Why follow-up after an interview?
Let's set the scene: Imagine you have just nailed an interview for the position you have been dreaming of. Are you excited to see what the outcome will be? Well, you have to leave some time for the recruiter to process how great of a candidate you are. But a good rule of thumb is to wait between one to two business days before sending a follow-up thank you email after an interview.
Today, we are going to show you exactly what you should write to stand out amongst the sea of other candidates.
by Montanna Owens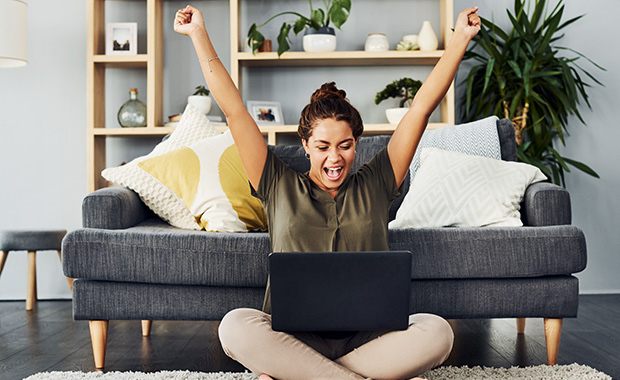 Why follow-up after an interview?
In case you didn't know, follow-up emails help you stand out from other candidates because, quite frankly, many people don't send these types of emails anymore. The new norm is to go to an interview, have a great time, and wait to be contacted or not contacted by the recruiter. In the competitive job market, it is best to stand out from the rest and to express a genuine interest in the position which you applied for.
When to follow-up after an interview?
It is good to follow-up one to two days after the interview. This is the ideal time to send an interview thank-you email, which is a unique thank-you email that you send after your interview. It is important to get the timing on your email right because you don't want to send it too soon and seem pushy. You also don't want to send it too late because you won't be fresh on the mind of the hiring manager. If you don't get an immediate response to your follow-up email, don't panic. This doesn't mean that you didn't get the job – it could just mean that they are busy at the moment.
Pro tip: if your interviewer gave you specific instructions and information about the hiring process timeline, please respect this and do not reach out if it clashes with the timeline provided to you by the interviewer. Many recruiters and hiring managers will give candidates an estimate on when they can expect to receive an update. Contacting them outside of the timeline they provided will only work against you instead of in your favor.
How to write a thank you email after an interview
In our series about how to write various types of emails, we always emphasis the importance of maintaining a professional tone throughout your email.
Have a professional subject line: Your subject line should detail exactly what the email is about. This is not the place to become too creative. For example, 'John Doe Wants To Work For You!' is unprofessional and a bit too much.
Proper salutation: You should always use the appropriate salutation, e.g., Dear [Mr., Ms., Mrs., etc] [insert last name here], or Dear [first and last name]
Add a 'Thank you': Expressing gratitude and thanking the interviewer for their time is a polite and professional.
Restate your interest: Detail your continued interest in the position to show you're interested even after the interview.
Inquire about next steps: Once you receive a reply, they will give you further information on the hiring process.
Add a professional sign-off: 'Best regards' or 'Sincerely' is the best way to go for this email.
Proofread your email: You don't want to have typos or misspellings to show a level of preparedness and professionalism. It shows that you really gave thought to what you wrote.
Bonus: You can emphasize skills that you would bring to the team, but it is not necessary.
Sample job interview follow-up email

Subject: Follow-Up on [Position Title] Interview

Dear [Interviewer's Name],

I hope this message finds you well. I wanted to express my gratitude for the opportunity to interview for the [Position Title] on [Interview Date]. It was a pleasure to learn more about your company and the team.

I am very enthusiastic about the possibility of joining [Company Name] and contributing to [specific project or team]. After our discussion, I remain confident in my ability to bring [mention a relevant skill or experience] to the role.

I am eager to move forward and would appreciate any updates on the hiring timeline or any additional steps in the process. Please feel free to reach out if you require any further information from my end.

Thank you once again for your time and consideration. I look forward to the opportunity of working with [Company Name].
Best regards,
[Your Name]
What NOT to put in your follow-up email
The tone you use when drawing up your email is very important. The email should not come across as demanding or desperate in tone. Even if you have been waiting for a little bit, you shouldn't blame the hiring manager or recruiter as hiring process are different for each companyand can sometimes take a while. You should not give an ultimatum under any circumstances. For example, don't say "If you do not respond by the end of the working day, you can consider my application withdrawn." This sort of language is unnecessary and rude. It does not set a great tone with the recruiter, and it will likely result in your application being rejected. Also, do not attach your resume to the email. This is unnecessary and can be quite obnoxious especially since you have already done the interview and they are aware of your qualifications.
How to write an interview follow-up email after two weeks
It can be difficult to reach recruiters sometimes as they have many applications to go through. If you have not received a response from your 'thank you for the interview' email, then you should follow up again. But only send a follow-up to a follow-up email after at least two weeks have gone by; otherwise, it will be too soon, and you don't want to seem like a nuisance. As in your thank-you email, in this email you should:
Have a professional subject line
Proper salutation
Acknowledge their time
Recall the interview
Inquire about application updates
Add an email sign-off
Proofread your email
Sending a second follow-up email sample

Subject: Follow-Up on [Position Title] Interview - Second Attempt

Dear [Interviewer's Name],

I hope this email finds you well. I understand that you may be very busy, and I appreciate the time and consideration you've already given to my application.

I wanted to follow up once more regarding the [Position Title] interview we had on [Interview Date]. As I mentioned in my previous email, I am genuinely enthusiastic about the opportunity to join [Company Name] and contribute to your team's success.

I understand that the decision-making process can take time, and I want to assure you that I'm patient and respectful of your timeline. However, I am still very interested in the position and would appreciate any updates or insights you can provide regarding the status of my application or the next steps in the process.

If there is any additional information or documentation you require from my end to aid in the decision-making process, please let me know.

Once again, thank you for your time and consideration. I am looking forward to any updates and hope to become a part of the [Company Name] team.
Best regards,
[Your Name]
Ripping the Band-Aid off and sending that follow-up email after an interview doesn't have to keep you up at night. As long as you know what to write in your email, you're all set to land that new job!
Are you enjoying our email How-to series? Take a look at
How to write an apology email
,
How to write a thank-you email
, and
How to email a professor
. And why not leave us a comment and let us know what you thought about this article?
Register for an email account with us today - it's free!
Sign-up and get your free 2GB of cloud storage
.
13 people found this article helpful.