Find that email you're looking for (and more)
Nowadays we send and receive vast amounts of email, and may not always be disciplined about organizing our inboxes or deleting email messages we no longer need. So what to do when we need to find a specific email, saved file, or piece of information among the hundreds of messages in our account?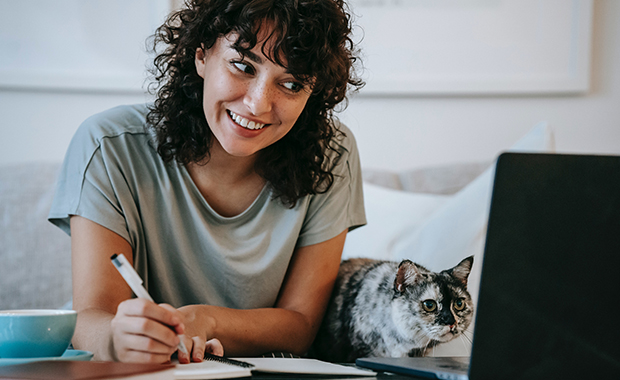 This is where the mail.com search tool comes in.
mail.com email search tool
What if you are looking for an email your mom sent you containing her famous cheesecake recipe? You may have noticed the search bar under your
Compose E-mail
button but never bothered to try it out. Maybe you think that since your mom has sent you at least a hundred emails over the past five years, even if you perform a search, you'll still have too many results to sort through. Not to worry – once you have typed in her name and clicked the magnifying glass icon to start your email search, additional options will appear to help you filter your search results. So if you remember that she sent the recipe around your birthday last year, you can set date parameters for your search. If you seem to recall her sending it to your sister as well, you can use your sister's name as the search term and search only in the Cc field by clicking "All Headers" and selecting "Cc" from the dropdown menu. And if you suspect you put it in a certain folder, click "All folders" and choose the folder name in the menu that appears. By applying the different search filters, you'll be ready to make your cheesecake in a matter of minutes.

Good to know:
The default search function in some email clients ignores messages in the Trash and Spam folders. Not mail.com!
mail.com web search
Now you may be wondering about the other search icon in the upper right corner of your mailbox. You can use this search field for a combined search of your inbox, your mail.com Cloud and the internet. So if you are not sure if that recipe was in an email from your mom that you didn't delete, in an email attachment that you saved to the cloud, or something that you found last year on allrecipes.com, you can enter your search term here. If the search term is part of an email address or header in your inbox or any of your folders OR a file name in your online storage, it will appear here. And with a single click, you can easily get answers to your question and explore further information through an internet search as well.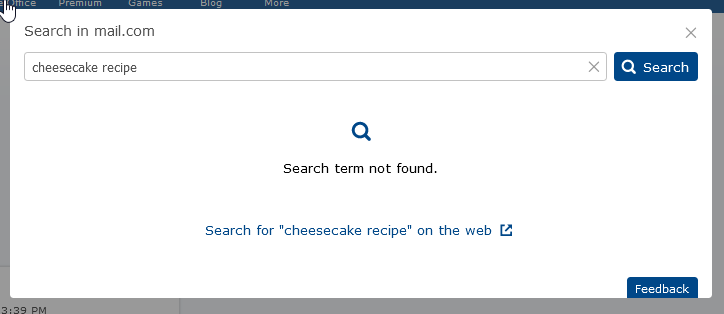 There is a third search option in your inbox if you ONLY want to search the web: a search bar that appears at the bottom of the page when you are in your
Home
tab.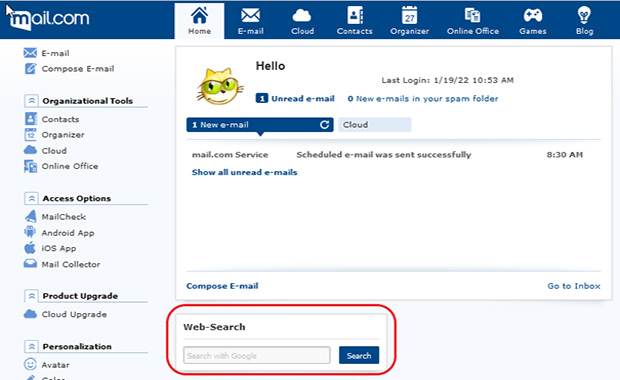 When you click for a web search, a new window will open up with your internet search results. You can further refine your search here using the search settings and filters:
Choose web or video search on the left of the navigation bar
Click Search filters and use the drop-down menus to refine your search for your perferred language, location and topical relevance
Click Settings to customize results language and region, activate a family filter to screen out explicit content, turn autocomplete on or off, change the font size or whether results are opened in new window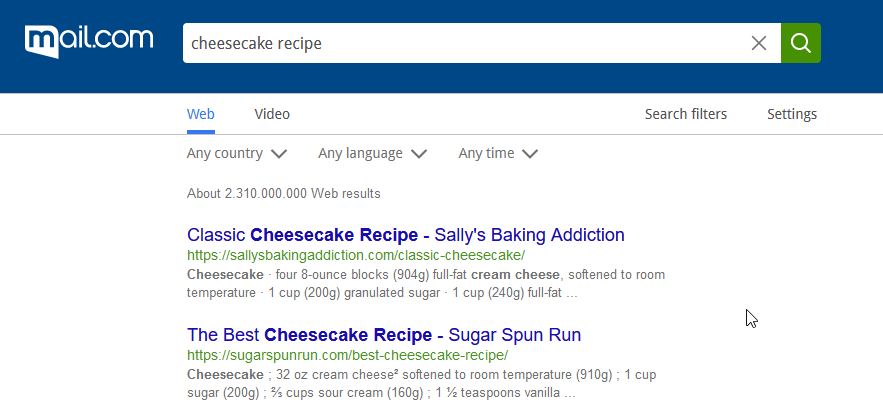 Good to know:
Even if you are not logged into a mail.com account, you can still use the mail.com internet search tool. Just go to the search bar at the top of the
mail.com homepage
, or go directly to
https://search.mail.com/web
.
Pro tip: Make your emails easier to find later
If you often find yourself struggling to find emails in a full inbox, try writing your subject lines with searchability in mind. For example, when writing to your mom to ask for a recipe, don't type in a generic subject line like "Favor?". Instead, call your message "Your cheesecake recipe". Similarly, the subject line for a work email could be "Follow-up to meeting with Letitia Smith" instead of "Meeting notes". This will save you time in the future, when your inbox search for "cheesecake recipe" or "Letitia Smith meeting" yields instant results.
We hope this post will be helpful next time you look for emails in your mail.com account! Before you start searching, please leave use some feedback below!
Images:1&1/Sam Lion
16 people found this article helpful.