New: All your week's appointments at a glance in your Organizer
Worrying about missing an appointment in your crowded calendar? Wouldn't it be great to have a quick and convenient overview of your schedule? Look no further: The mail.com Organizer has a new sidebar to help you navigate through your week without a hitch.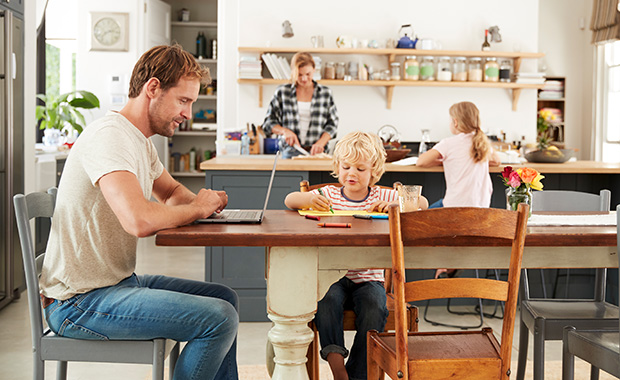 What is the Organizer sidebar?
You may have noticed a new button in the upper right corner of your mail.com Organizer (hint: it's marked "New"). Clicking this button will open a task bar on the right side of your calendar.
What's it for? No matter what calendar view you are using – day, week or month – the sidebar will give you a chronological list of your upcoming appointments for the next seven days.
And as the event approaches, you'll even be able to see how many hours and minutes remain before it starts.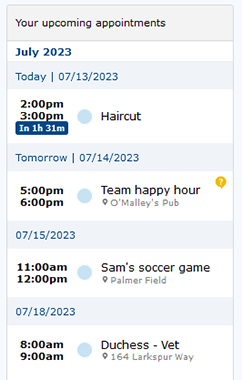 Why use the sidebar?
This handy feature helps keep you on track so that no important event slips through the cracks. For example, if you have entered a location for that appointment, it is also conveniently displayed in the sidebar so you can see it at a glance. If you'd like to see more details of an appointment, make any changes, invite someone else to join you, etc., simply open it by clicking on it in the sidebar.
Another handy feature: if someone sends you an invite to an event in the next 7 days, it appears in the side bar with buttons for you to accept, tentatively accept, or decline.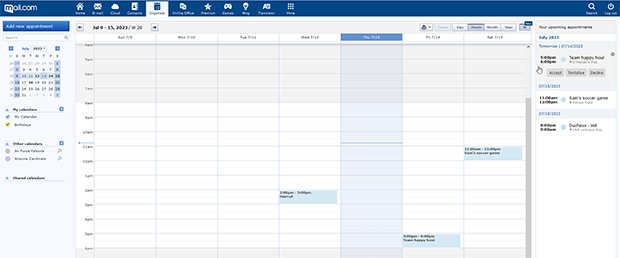 Good to know: The mail.com Organizer
Maybe you've seen the "Organizer" tab in your mail.com mailbox but haven't yet explored its many useful features. We're here to tell you that you are missing out! This online calendar is right there where you need it – it's a snap to quickly save appointments and important dates that land in your inbox. Plus, the Organizer automatically shows important dates like holidays and the birthdays of your saved contacts. When you create an appointment in your Organizer, you can send invites and manage participants and even set reminders. It's also possible to synchronize with any other online calendars you use and to create shared calendars with other mail.com users.
And if you still don't have a free email account with mail.com,
why not sign up here?
Images: 1&1/GettyImages
8 people found this article helpful.