Free translation online: Introducing the mail.com Translator
Writing an email to make a reservation in another country? Have product information in Chinese and need to translate it to English? Or vice versa? Never fear! Get the translations you need in just one click with the highly accurate and secure mail.com Translator.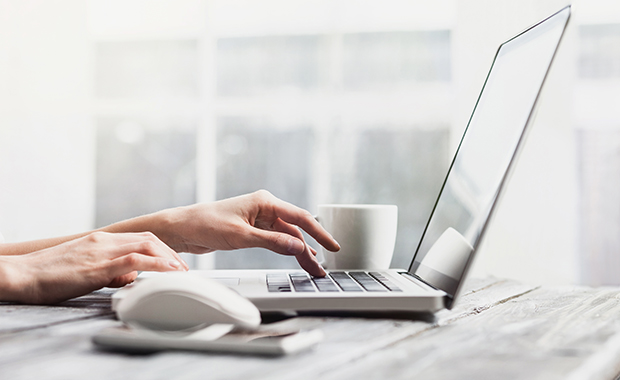 New mail.com Translator: Translate to English and 28 other languages
This free online translator can translate between 29 languages, including English, Spanish, French and Chinese, in the blink of an eye. You can translate a single word or sentence, but why stop there? The mail.com Translator can translate texts of up to 2,000 characters (as long as some blog posts!), so go ahead and translate your entire email.
Here's how the mail.com Translator works:
In your web browser, go to https://www.mail.com/translator/
Type or paste the text you'd like to translate in the left translator field. You don't need to select a language for your text – the translation tool will detect it instantly.
Click the language in the right translator field and a menu will open listing the available translation languages.
Click a language to select.
Your translation will appear immediately.
Copy or share the translation by clicking an icon in the lower right corner.
It's that easy – the mail.com online language translator delivers instant translations with no need to install a browser extension or plugin.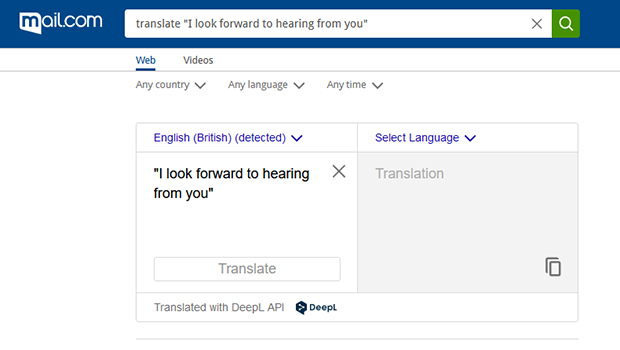 Translate emails almost instantly
You may also have noticed the "Translator" button in the top navigation bar of your mail.com account. But have you tried it? A single click will open a window in the mail.com Translator, putting a world of translation options at your fingertips.
Imagine you are planning a vacation in Italy and you received a hotel confirmation in Italian – now you'd like to translate the email to English. The mail.com Translator is here to help! Just select the text you'd like to translate with your mouse, then press
Ctrl + C
on your keyboard to copy it. Now click the Translator button in the top navigation bar. The mail.com Translator will open in a separate window. Paste your text into the translation tool where you see "Enter text here". Now select the language you'd like the text to appear in the right column, and your translation will appear in the blink of an eye.
Now suppose you'd like to send a reply to the email in Italian. Click the
X
in the corner to clear the previous translation. Select "Italian" in the right translation field. Now you can simply start typing your email reply where you see "Enter text here," and a translation will appear simultaneously on the right side. Once you are done, copy your translation by clicking the icon in the lower corner, then click back to your email account and paste it into your email reply in the
Compose E-mail
window.
Good to know: The mail.com Translator is powered by DeepL, is a German AI company not only known for its extremely accurate translations, but also its adherence to strict data privacy standards. No data is passed on to third parties for advertising purposes.
We hope you are as excited about our free online translator as we are! We look forward to your feedback below.
Images: 1&1/GettyImages
130 people found this article helpful.