How to report a phishing mail & more: Answers to reader questions
You asked, we answer! From where to find the spellcheck to how to report a phishing email, here are the answers to frequent questions we receive from our loyal readers and mail.com customers.
You asked, we answer! From where to find the spellcheck to how to report a phishing email, here are the answers to five questions we received from our loyal readers and mail.com customers.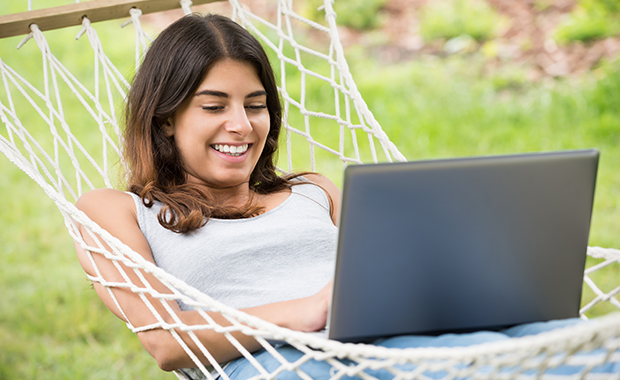 mail.com takes
phishing scams
seriously and we appreciate customers letting us know about suspicious emails, especially if they are fake mail.com messages. You can always report phishing attempts to our customer support team using our
contact form
. In addition, it's possible to check the authenticity of a suspicious mail.com email on our
postmaster page
, where you will also find a dedicated
form for reporting phishing
.
We're glad you asked! The process for taking screenshots can vary according to whether you are using a computer or mobile device, and what operating system you use. However, here are some common screenshot methods to try:
On a Windows computer: Press Windows key + Shift + S to open the Snip & Sketch tool
On a Mac: Press Shift + Command + 4 to screenshot a selected area of the screen
On an iPhone: Press the Power button (right side) and Volume up button (left side) at the same time and release quickly
On an Android phone: Press the Power and Volume down buttons simultaneously.
For more tools and options when taking a screenshot on your computer, you can also check out our blog post on
taking a screenshot from a computer
.
You can! If you don't want mails sent from a certain email address or email domain delivered to your inbox, you can stop them by adding them to a (logically named) blocklist. In your mail.com account, you will find this under
E-mail Settings
>
Blocklist
. Simply enter the address (e.g. qwerty@mail.com) or domain (e.g. @mail.com) and press
Save
. Now any incoming messages will bypass your inbox and be sent straight to your
Spam
folder. Don't worry, if you change your mind, all you have to do to remove an address or domain from your blocklist is hover over it with your mouse cursor until a trash icon appears to the right of it, then click that icon to delete the item from the blocklist.
Bonus explainer:
The opposite of a blocklist is the aptly named "allowlist". You will also find an Allowlist in your mail.com E-mail Settings. Adding an address or domain to this list ensures that messages from that sender are never sent to your Spam.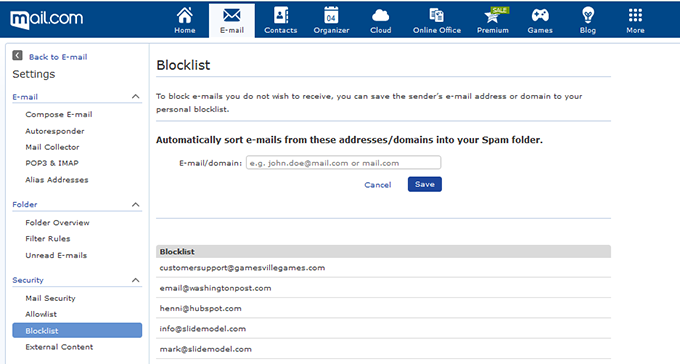 There actually is! When composing an email, you can activate the spellcheck by clicking on the spellcheck icon – it's the letters "abc" with a checkmark above it, and it's to the right of the
Stationery
button. Once activated, any misspelled words in your email will be underlined in red. Right-click on the misspelled word to see alternative spelling suggestions, and left-click on a suggested word to replace the wrong spelling in your mail.
Of course! To change the font within an individual email, click the
More
button in the top menu bar of the
Compose E-mail window
to see your formatting options. You can select your desired font from the dropdown menu on the far left, and adjust the font size and color with the buttons next to that. To change the default font of your emails, go to
E-mail Settings
>
Compose E-mail
>
Formatting
. Please note that changes made to your default font will also affect your
email signature font
.
Bonus explainer:
For a deep dive into all of the options and features that are available when you write an email in your mail.com account, check out our
blog post on the Compose E-mail window
.
Send us your questions!

Do you have a question that you'd like answered? If you read our blog while logged into your mail.com account (click the Blog button in the top navigator bar of your mailbox), you can send us your questions directly. Just click the thumbs-up or thumbs-down symbol at the bottom of an article and an additional field will open where you can type in a comment. Then we can answer your question in a future blog post.
If you learned something new about your email today, let us know below!
Images: 1&1/GettyImages
25 people found this article helpful.