What is the best email signature font?
When creating an email signature, you probably put some thought into the wording and what information to include. But the font you choose is also important – not only in how you are perceived, but in how legible your signature will be on different devices. So what is the best font for your email signature?
Pay attention to email font compatibility
You may have experienced this: You open an email or document and get an error message telling you that the font cannot be displayed correctly. This is because there are now hundreds of fonts out there, and not every font is available on every device or program. If you use such a font in your email signature, in most cases your text will still be displayed – but in a different fallback font that may throw off your design or layout. If you are proficient in HTML coding, you can choose and set the default font, but it is much easier to simply start with a font that is nearly universally compatible.
Ten widely compatible fonts are:
Arial
Arial Black
Courier
Courier New
Georgia
Helvetica
Tahoma
Times New Roman
Trebuchet MS
Verdana
Pro tip: Serif vs. sans serif fonts

The two major font families are serif fonts and sans serif fonts. A "serif" is simply the decorative foot that finishes off the stems of a letter, like this – serif fonts have them, sans serif fonts don't. Sans serif fonts are more typically used for screen reading, while serif fonts are more commonly found in print media like books and newspapers. However, some serif fonts such as Times New Roman are widely compatible with devices and programs, so you can select one for your email signature if you like. Keep in mind that many people perceive sans serif fonts like Arial as more modern, clean, and no-nonsense, while serif fonts can seem more traditional and conservative. So when choosing your font, think about what impression you are trying to convey to your recipients.
Make sure your email signature is easy to read
If you choose a font that is heavily cursive or stylized, even if it is displayed correctly it will probably take longer for the recipient to read. Keep in mind that most people are trying to get through their emails quickly – if your signature is hard to decipher, they may well ignore it.
Best email signature font size
Your email signature should not be so large that it stands out more than the main body of your email, or so small that it is hard to read. An easy-to-read email signature is between 11pt and 13pt. We recommend using the same font for the body of your email and your signature so the signature doesn't distract from your message.
Best font colors for an email signature
Since your aim is to create a legible email signature, it's best to steer clear of excessively bright or light font colors. Using a whole rainbow of colors also makes a signature harder to read, so if you do want a splash of color in your signature it's best to limit yourself to 2 to 3 colors and easy-to-read colors like deep blue. For a professional appearance, we recommend using the same font color as the email body text.
Your mail.com email signature
If you have an automatic email signature set up for your mail.com email address, it will automatically be displayed in the default font of your email messages. The preset font is Verdana 12pt, but you can select from a variety of default fonts or manually set a different font for a specific message. To change your default font or create an email signature, please go to your email settings. Need more help with this? Check out our
post on creating email signatures
for detailed instructions.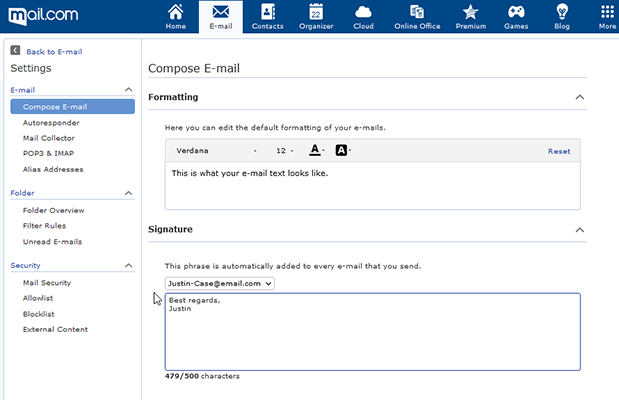 Did you find this email signature font explainer useful? Please leave us some feedback below!
Images: 1&1/GettyImages
71 people found this article helpful.