Email life hack: How to delete messages efficiently
When emails start to pile up, it can be hard to keep track of your digital life. But who has time to sort through old messages one by one to see what's important and what's not? Luckily mail.com has a few simple tricks and tools you can use to find and delete emails in bulk and keep junk from accumulating going forward.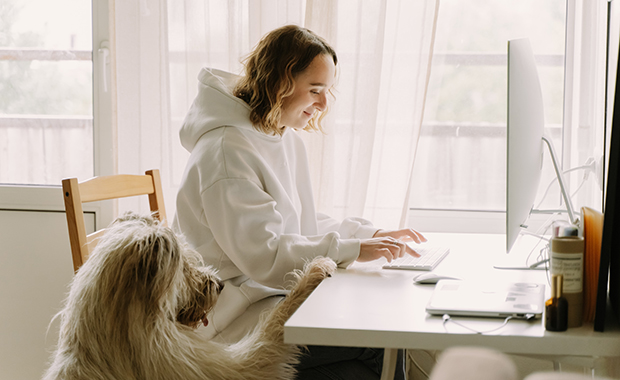 Of course we all know that a clean inbox helps keep us from losing track of important messages and find what we are looking for quickly. And even though mail.com gives you 65 GB of email storage (room for around 500,000 emails!) if you have not deleted messages from your email account for many years, you may need to free up storage space so you don't have problems sending and receiving messages with that email address.
How to delete an email: The basics
To delete an email in your mail.com inbox, simply click the box to the left of the sender name. Now click the
Delete
button in the navigation bar (or the trash symbol) to send that message to your Trash folder. To delete several emails at once, select them by clicking each box and then
Delete
. If you mistakenly delete an email, don't worry – it will remain in your Trash folder for 90 days (default setting). Once emails have been deleted from the Trash folder, however, they can no longer be recovered.
How to delete all emails at once
Obviously, if you have a lot of emails to delete you don't want to waste time clicking on each one. If you want to delete emails in bulk from your mail.com inbox (or another folder), you can click the checkbox next to the Delete button to select all mails, then click
Delete
. Alternatively, you can use the dropdown menu to select all your read or unread messages for deletion.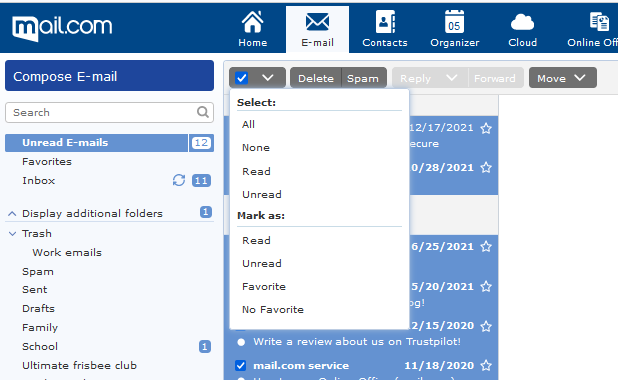 How to mass delete emails using your folder settings
If you like to
organize your email inbox using folders
, you can automatically keep clutter from accumulating by defining storage times for each folder. By default, the inbox folders you create have unlimited storage time. But if you have a folder for newsletters from your favorite retailers, for example, you may want to set a storage time of 30 days since the special offers in the newsletters will expire by then anyway. Once you have done so, individual emails in that folder will be automatically moved to Trash after 30 days. You can customize each of your folders with a different storage time. Simply mouse over the folder name and a wrench symbol will appear. Click this and set the desired storage time in the dropdown menu. Alternatively, if you know you don't need any of the emails in a specific folder, you can delete them here with a single click on
Empty folder
.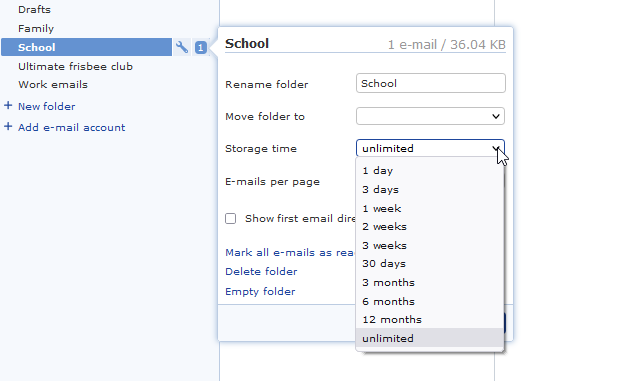 If you'd like to check the storage time of all the folders in your mail.com inbox, go to
E-mail
>
Settings
>
Folder Overview
.
Use email search filters to delete emails in bulk
Another way to mass delete emails without resorting to the nuclear option of deleting all messages: Use the search emails function. If there are emails from a specific sender you no longer need to keep – like events from a club you no longer belong to – you don't need to scroll and select each message manually. In the
E-mail
tab, go to the
search bar
located under the
Compose E-mail
button and enter the sender name. This will give you a list of all messages from that sender in all folders in your mail.com account. Now you can select them all and press
Delete
– or, if desired, use further filter options (like date or folder) before sending them to the trash.

Pro tip: Emails that you shouldn't delete
If a spam message arrives in your inbox when you check email, this is
not the time to press delete
! Instead, select the message as described above and click
Spam
in the top menu bar. This will not only move the email to your Spam folder, but will also ensure that any future emails from the same sender will automatically be identified as junk mail.
We hope you found this email life hack helpful! Before you start deleting emails, why not leave us some feedback below?
Images: 1&1/Yaroslav Shuraev
45 people found this article helpful.