Easter emails: Eggs-cellent ideas and subject lines
With Easter just a few weeks away, now is the time to start thinking about sending out Easter emails! Businesses can use Easter-themed emails to promote special deals or to connect with subscribers and boost engagement. Easter is also a great time to put a smile on the face of your family and friends with a fun Easter message.
Today we'll take a look at some tips and best practices for crafting the perfect Easter email. Whether you're promoting an Easter sale or sending well wishes, we've got you covered!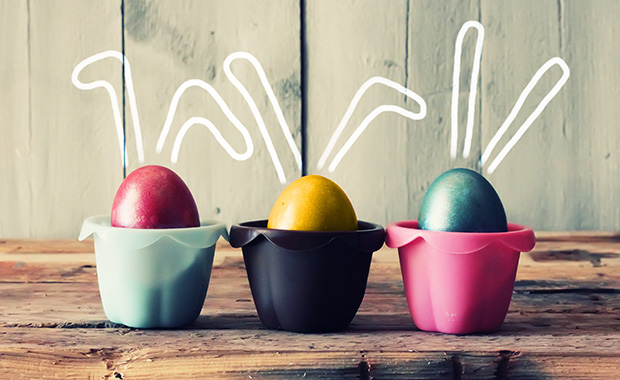 Writing an Easter email can be a great way to let your creativity shine, but it can also be a little daunting if you're not sure where to start. Here are some ideas to help you write a thoughtful and engaging Easter email:
If you have a business, you probably already know that email marketing is a powerful tool for reaching out to your customers to promote your products or services. Emailing is highly cost effective and allows you to target specific demographics and personalize your messages. You can use Easter themes like bunnies, egg hunts, gift-giving and family gatherings to create a fun vibe that promotes engagement and makes your email marketing campaigns more effective – for example:
Easter giveaway: Link your email campaign to a social media contest asking customers to share a photo of their Easter decorations and tag your brand to enter a chance to win a prize. This could range from a pre-made Easter basket filled with goodies to a family brunch or dinner at a local restaurant. (This could also help you create a partnership with businesses in your community.) You can also offer a discount code to all participants as a thank you for taking part in the contest.
Easter-themed products: Depending on your product, you can offer Easter-themed chocolates, Easter bunny toys, or Easter-inspired jewelry or apparel. But even if your product doesn't lend itself neatly to an Easter theme, you can offer special-edition product bundles or Easter gift certificates. Use a fun Easter email to let people know about your special deal.
Donation promotion: Add a charitable twist to your Easter sale email – for every purchase made during the Easter season, donate a percentage of the sale to a local organization. This is especially effective if there is a thematic link to Easter – like donations to an animal shelter (Easter bunny) or nature center (springtime). Such community involvement can boost your brand image and customer loyalty.
Surprise Easter gift at checkout: You can add a free gift like a chocolate bunny or sample-size product to every online or instore purchase. Or offer your online customers a free shipping code – who doesn't love free shipping!?
One example of an Easter promotional idea that you can market by email and on social media is hosting an Easter egg hunt. It's a fun and engaging way to bring people together and create a sense of community – and you can invite people by email! Not only should you send an invite to your local customers with all the details of the event (date, time, location, RSVP…), you should also add some colorful graphics and festive language. Be sure to let people know how many eggs you'll be hiding and what prizes they can win and post some teasers on your social media channels as well.
Easter egg hunt invitation template:

Subject: Egg-clusive invitation to our Easter Egg Hunt!

Dear [Recipient],
Easter is right around the corner! We wanted to invite you and your family to join us for a fun-filled Easter Egg Hunt at [Business Name] on [Date] at [Time].

We will have hundreds of colorful eggs hidden throughout the [Location], filled with candy and other surprises. Our Easter Egg Hunt is open to children ages [3 to 6], and we will also have free face painting and Easter refreshments available for all attendees. The Easter Bunny will be making a special appearance, so make sure to bring your cameras!

We hope that you can join us for this exciting event. Please RSVP to this email to let us know how many family members will be attending.

We can't wait to see you there and have an egg-citing time!

Sincerely,
[Your Name]
[Business Name]
Your email subject line is the first thing your recipient sees when your message hits their inbox, so it needs to grab their attention and persuade them to open the email. So catch the reader's attention with a fun subject line, but also make sure that the purpose of your message is still clear. At Easter, silly references to bunnies, baskets, chicks, etc. are never out of place – not to mention egg-related puns:
Hop into Easter savings with our egg-citing deals!
Egg-cellent Easter deals are hatching now!
Hoppy Easter! Enjoy these egg-citing discounts!
You won't have to hunt for savings this Easter!
Don't miss out on our Easter egg-stravaganza
When sending an Easter message to friends, it's important to keep in mind the tone and content of your message. Easter is a meaningful religious holiday for members of the Christian faith, so they may appreciate a message that reflects this spiritual aspect. However, a friend with different beliefs might enjoy an Easter email focusing on themes like springtime, hope or renewal, or on the fun aspects of the holiday. What's most important is to keep your message personal and heartfelt, and express your appreciation for the other person.
Five religious Easter email greetings:
May God bless you and your family this Easter and always.
May you feel the love of God on this blessed day. Have a wonderful Easter!
Happy Easter! As we gather with family and friends, let us give thanks for the blessings in our lives and share the miracle of this season with those around us.
Wishing you and your family a blessed Easter filled with peace, love, and hope.
Wishing you a blessed and holy Easter! Praying that you will be uplifted with joy and love today.
Five non-religious Easter wishes for your email
I hope this Easter brings you a basket full of happiness and love! I'm grateful for the light and positivity you bring into my life.
Happy Easter! May you find joy in all the little things and may your day be filled with love and laughter.
Wishing you a wonderful Easter filled with love, joy, and happiness – and plenty of chocolate!
Happy Easter to one of my favorite peeps! Sending you warm wishes and lots of virtual hugs!
Have a hippity-hoppity Easter! May the Easter bunny bring you all the joy (and jellybeans) you deserve.
Good to know: Send an Easter ecard with mail.com
If you'd like to give your Easter email an egg-stra special touch, check out the two free Easter-themed ecards from mail.com. Log into your mail.com account, open the
Compose E-mail
window and click the
Stationery
button in the menu bar under the subject field. For Easter greetings, select the card Easter 1 or Easter 2 and personalize the festive image with your own message or even a photo. If you need more help with this, see our
blog post on creating personalized holiday cards
.
We hope you will use these tips to create emails that leave a lasting impression this Easter!
Still don't have an email account with mail.com?
Sign up for free here
.
Images:1&1/Shutterstock
853 people found this article helpful.