World Backup Day: Back up your important data today!
Just imagine losing or breaking your smartphone or laptop. Most of us have years of photos and important documents on our devices, and if you haven't backed up your files, they'll all be gone with the wind – and little hope of recovery. Luckily, it's not hard to back up data, which is what World Backup Day on March 31 is all about!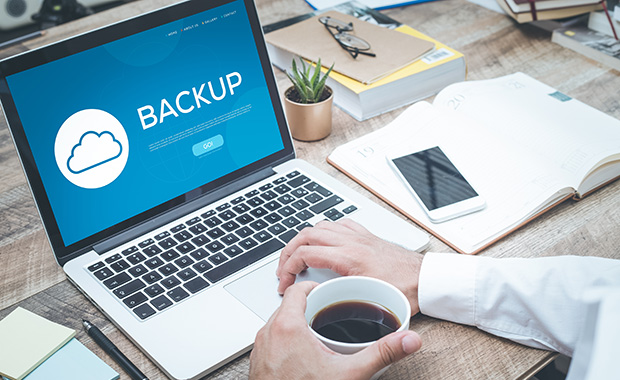 What is World Backup Day?
From weeks or months of work on a college thesis to photos of a child's first birthday and those magical memories, the data on our computers and phones is priceless to a lot of us. Unfortunately, there are many different ways that your stored information and files can be lost, ranging from human error to computer bugs. There is a universal solution to this problem, however, and it's called data backup.
Whether it's a reminder or a wake-up call for you, World Backup Day on March 31st is the perfect occasion to back up your data. Don't be like the
20% of people
who have never performed a computer backup. Take this opportunity to make sure you have a copy of your most important files, photos and documents stored in a secure location (like the
mail.com Cloud
)!
What is data backup?
By backup, we mean saving digital files – photos, documents, etc. – in a second location as a backup copy. For example, saving photos from your phone to the cloud or copying documents from your computer onto an external hard drive. Backups are especially recommended for files that are irreplaceable or can only be replaced by putting in a lot of time and effort.
How often should you back up data?
It depends! We're not being unnecessarily vague here – your ideal approach to data backup and recovery will depend on who you are and what kind of files we're talking about. For business purposes, security professionals recommend a daily, or at the very least weekly, backup. After all, some kinds of data loss can completely ruin a business. A private individual can usually get away with performing a backup about once a month – although if you take photos of an important event like a wedding or add a brilliant scene to that screenplay you're working on, you'll probably want back up those files right away.
What is the most common cause of data loss?
A lot of us might associate data loss with a computer bug and think that we don't need to back up our data all that often, especially if we have a good antivirus program protecting our device. But let's take a look at five common causes of data loss:
Hard drive failure: 140,000 hard drives crash every week in the US alone. The reasons can range from overheating, power surges or the impact of the device being dropped, to internal factors such as software corruption
Human error: By which we mean accidentally deleting your own files. We might count on being able to retrieve files from the Recycle Bin if we delete them by mistake or change our minds, but they will eventually be overwritten. And if you use Shift + Delete or the Windows Command Prompt, your file will be permanently deleted rather than sent to Recycle.
Malware infections: There are computer viruses in circulation that can overwrite, steal or encrypt your data and hold it for ransom. With new email attacks and phishing scams every day, it is not unheard of for malware to slip past antivirus software and vigilant users.
Laptop or phone theft: A phone is particularly easy to steal – an opportunistic thief just has to see it unattended on a table, snatch it, and be gone in seconds.
Water or coffee: Drop your phone in water or spill coffee over your laptop keyboard and you risk short-circuiting your entire device, which can wipe some or all of your data and/or make it impossible to start up the device again.
Now let's all be honest with ourselves – do any of us really think that none of these things could ever happen to us? And since we don't have the superpower of perfect phone or laptop protection, making backups is our best chance of preventing data loss.
Bonus explainer: How should I back up my files?
Now that you know
why
to back up your data, you might be asking
how
. There are several reliable and secure options for backing up your data – external hard drives, online cloud backup, flash drives, etc. If you'd like to explore these options in more detail, take a look at our deep dive:
Best ways to back up a file
Easy backup with the mail.com Cloud
If data backup sounds like a lot of extra work to you, we recommend the easy-to-use, free cloud storage in your mail.com account. It only takes a few clicks to store a backup copy of a folder, document, or photo:
On your computer, log into your mail.com account, click the Cloud tab, and back up files to your cloud by clicking the Upload button.
With our mobile app installed on your iPhone or Android smartphone, you can activate automatic photo backup – a convenient way to back up photos from your phone. Or you can do the backup via QR code.
Good to know:
Our Cloud offers you 2 GB of online storage for free, and you can
upgrade to 20, 50 or 100 GB
for very reasonable prices. If you use our mobile app, cloud upgrades are available as in-app purchases.
Advantages of cloud data backup
Unlike external hard drives or thumb drives, the cloud is water- and disaster-proof. A reputable and secure online storage provider will also give you reliable data protection. Cloud backup storage also lets you access your files wherever you can connect to the internet. Plus, you can easily share photos and files with other people. If you are interested in online backup storage that also lets you access files when you are offline, choose a cloud provider like mail.com, which offers a desktop app that
synchronizes your computer and your cloud
.
We hope this deep dive into data backup has inspired you to join in on World Backup Day! And if you still don't have a mail.com account, you can
create your free email address here
.
Images: 1&1/Shutterstock
1,602 people found this article helpful.