mail.com Mail App: 5 advantages of our apps for iPhone & Android
Looking for a superior email experience on your smartphone? We recommend the free mail.com Mail App! Optimized for your iPhone, iPad or Android smartphone or tablet, no complicated setup is needed – simply download, log in with your mail.com account, and start enjoying its many convenient features immediately.
The days where people only checked their emails on their laptops are long over – after all, we love the freedom and convenience of being able to read and answer our emails wherever we are! And because mail.com knows how important mobility is for you, we have mobile apps that keep your email and cloud at your fingertips – any time, any place.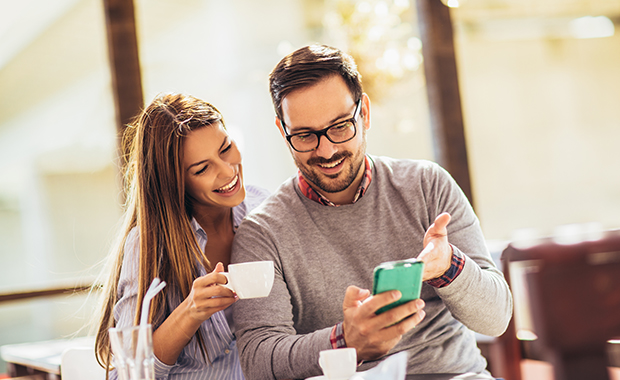 Automatic setup – no IMAP settings required
You may ask "Why not just use the preinstalled mail app on my phone?" But depending on your email provider, you may have to set up your email account manually – and who really wants to spend time finding the SMTP server name and configuring IMAP settings? With the mail.com app, all you have to do is log in and your inbox,
address book
, folders and
cloud storage
are instantly synchronized.
In addition to being easy and intuitive to set up and use, our Mail App offers four more great advantages – no matter if you have an Apple or Android device.
Integrated Cloud app
One of the first things you'll notice in the mail.com app is that there's not just an "Email" tab, but a "Cloud" tab as well. That's right – all the photos, documents and folders in your mail.com Cloud can be accessed online in the app. Not only is your online storage always automatically synced between all devices where you log in, but you can even activate
automatic photo backups
of the pictures on your phone. You can use your phone's sharing functions to share photos and files straight from your Cloud, or send them as
email attachments
or
share links
.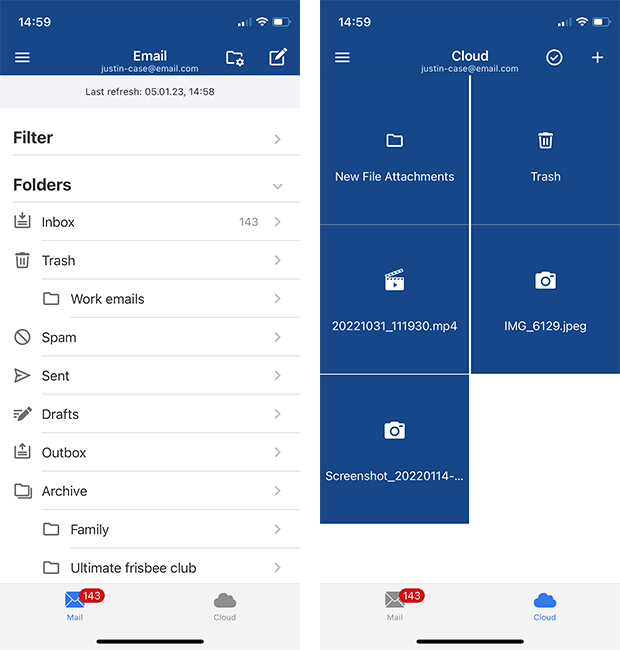 Secure email app
The mail.com Mail Apps are highly secure and offer the cutting-edge
spam protection
you expect from mail.com. For extra mailbox security, you can
activate the biometric fingerprint or facial ID lock
function supported by your smartphone. Alternatively, on older devices you can create a 4-digit PIN to protect unauthorized access to your email and cloud storage. This gives you the peace of mind of knowing that even if your device is lost or stolen, your email account will remain safe.
The only email app you need
If you have more than one mail.com email account, you can use them both in our app. And if mail.com is your primary email provider, why not
make our Mail App your default email app
? This means our app becomes the go-to app on your phone for anything having to do with email. So "mailto" links will open in the mail.com Mail App rather than your phone's preinstalled email app. In other words, no more switching back and forth!
Sign-up and upgrades directly in app
If you don't have a mail.com email account yet, you can simply sign up after downloading the email app. Just tap "Register" and you can choose from our 100+ domains to create a customized email address. And app users who decide they'd like
more cloud storage
or additional mail.com
Premium features
will be happy to learn that our upgrades are available as in-app purchases in the app's mail and cloud settings.
Pro tip: Scan documents with the mail.com app for iOS
Listing all the handy features of the mail.com apps would take us all day, but we'd like to share our personal favorite: the scan function in our Mail App for iOS. No need to fiddle around trying to get the perfect angle to take a photo of a document – scan it right in our app for a perfectly cropped and rotated PDF file you can save or share in a single tap. See our
scanner explainer for detailed instructions
.
Sounds great, right? So, what are you waiting for? Download and install our
Mail App for Android
or
Mail App for iPhone
today!
Was this article helpful? Before you go install the app, why not give us some feedback below?
Image: 1&1/GettyImages
95 people found this article helpful.